9 Best Triathlons in the World
Year on year the triathlon is growing in popularity worldwide. From super sprint to iron-distance, we've put together our pick of the 10 best triathlons from around the world:
1. IRONMAN 70.3 Hawaii (Kohala Coast, Hawaii)
Distance: Middle Distance (1.9k swim; 90k bike; 21.2k run)
Date: Sat 4th June 2022 / Sat 3rd June 2023
This triathlon allows you to get a taste of the full distance Ironman World Championships course without the need to qualify (or double down on the yards). It's not an easy event, as there's plenty of climbing involved and it's made all the more challenging by the Hawaiian humidity and heat.
The location is the best part of this event by far. Hawaii boasts some of the most stunning beaches in the world, with turtles and dolphins in the water, and volcanoes and tropical rainforests on the land. You'll get to enjoy all of this as you push yourself towards the finish where you'll receive a warm welcome by the spectators and organisers.

2. DATEV Challenge Roth (Roth, Germany)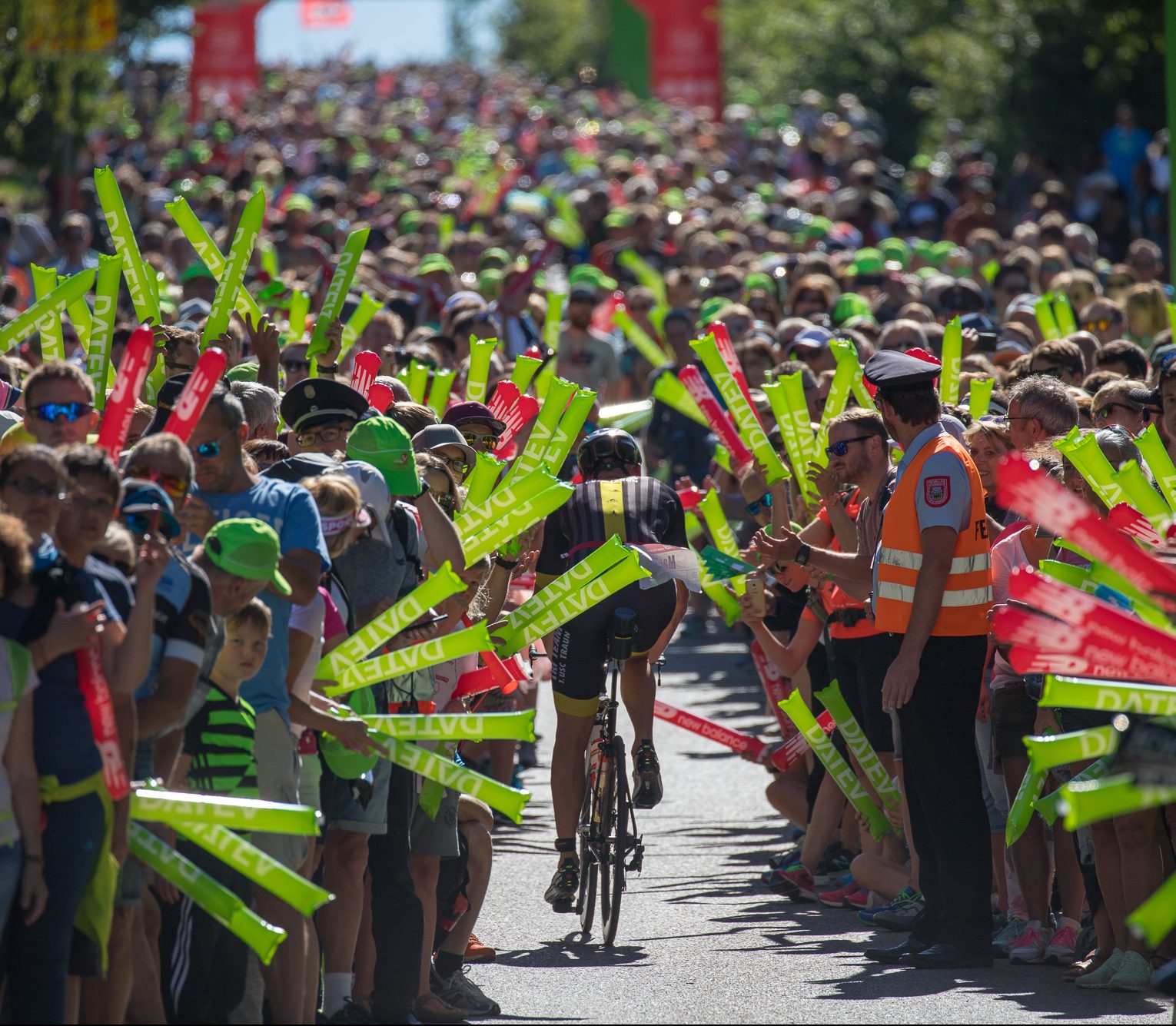 Distance: Full Distance (3.9k swim; 180k bike; 42.2k run)
Date: Sun 3rd July 2022 / Sun 25th June 2023
This event is the best Ironman distance triathlon around for a PB. It holds the world record for the fastest times at this distance for both men and women (Jan Frodeno 07:35:39 and Chrissie Wellington 08:18:13, respectively). It's also the biggest triathlon event in the world, boasting nearly 5000 athletes in total (including relay) and over 250,000 spectators.
The event features a fantastic course, the bike has a few climbs to keep things interesting and the run is flat, but the real highlight for competitors is the support (pictured) which would rouse even the most battle weary triathlete to a strong finish.
3. Escape from Alcatraz Triathlon (San Francisco, California)
Distance: 1.5k swim; 29k bike; 12.9k run
Date: Sat 4th June 2022
Somewhere between an olympic and middle distance triathlon it's not the longest event on our list but it's also definitely not the easiest. The Escape from Alcatraz triathlon will put you through your paces. Inspired by a truly daring prison escape in 1962, after jumping from a boat you will have to swim through the frigid waters and strong currents of San Francisco bay towards the Golden Gate Bridge. Then follows energy sapping bike and run legs where you will encounter the infamous 400 step sand ladder. Complete this event and you'll have bragging rights that few others can compete with.
4. Laguna Phuket Triathlon (Phuket, Thailand)
Distance: Signature (1.8k sim; 50k bike; 12k run); Sprint (0.5k swim; 18.5k bike; 6k run)
Date: Sun 20th November 2022
Not necessarily that easy to get to, but worth travelling for (and a great excuse for a holiday). The Olympic+ event is challenging mainly due to the tropical heat you'll endure through the race, otherwise you're competing in paradise. The swim is quirky because it's cut in half by a small sand beach that you'll have to race across and jump in the crystal clear water again on the other side. Lush jungle forest will follow before you run through the upmarket resorts in Laguna Phuket. After it's all said and done, you can kick back and enjoy your holiday is stunning surroundings.
5. Triathlon Alpe D'Huez (Alpe D'Huez, France)
Distance: Triathlon L (2.2k swim; 118k bike; 20k run); Triathlon M (1.2k swim; 28k bike; 6.7k run)
Date: Triathlon L (Thu 28th July 2022); Triathlon M (Fri 29th July 2022)
Experience high altitude racing at its best. How tough this will be will depend largely on how you can cope with the altitude. The swim takes place at 700m in the Lac du Verney reservoir which powers France's largest hydroelectric power station. The power station is switched off especially for the swim, which is pretty special. You'll then climb two separate peaks (Col de l'Alpe du Grand Serre (1,375m) and the Col d'Ornon (1,371m)) before taking on the iconic ascent to Alpe D'Huez with it's 21 hairpin turns. Before you finish you'll have 20k to run at 1,860m altitude! By the end of the event you'll be a master of the mountains.
6. Noosa Triathlon Multisport Festival (Noosa, Queesland, Australia)
Distance: Olympic (1.5k swim; 40k bike; 10k run)
Date: Sun 30th October 2022
This is the biggest triathlon event in the world in terms of participants (with over 8,000 competitors). It's a fast and flat event and super beginner friendly, how hard you find it will depend on how hard you push yourself. Distract yourself with Queensland's stunning Sunshine Coast as you go between beautiful sea and rainforest. Triathlon is only one part of this huge festival. There's a variety of multisport comprising of running, cycling and swimming events. Noosa is also a popular holiday spot for you to relax in post race.
7. London Tri (London, UK)
Distance: Olympic Plus (1.5k swim; 80k bike; 10k run); Olympic (1.5k swim; 40k bike; 10k run); Sprint (0.75k swim; 20k bike; 5k run); Super Sprint (0.4k swim; 10k bike; 2.5k run)
Date: Sun 7th August 2022
There's various length options for the London Tri, but we'd recommend the Olympic. You'll be able to take in the best sights London has to offer while you cruise through this inner city event. It's fast and flat and the multiple length options make it one of the easier events on this list and perfect for athletes of all levels of experience and ability. If you'd like to mix things up a bit, you can attempt the Weekend Warrior where you'll compete to complete the furthest distance possible across all the events – undoubtedly one of the hardest triathlons in the UK! Currently the record is held by Chris Dunn and stands at 246k. Crazy.

8. Blenheim Palace Triathlon (Woodstock, Oxfordshire, UK)
Distance: Sprint (0.75k swim; 19.8k bike; 5.4k run); Super Sprint (0.4k swim; 13.2k bike; 2.9k run)
Date: Sat 28th May & Sun 29th May 2022
The perfect event for beginners. Held in the beautiful, historic grounds of Blenheim Palace, you'd be hard pressed to find a better introduction to the world of triathlon. The courses are fast, flat and short, with sprint and super sprint options available. There are no waves, currents or steep hills to worry about, and the organisation of the event earns its plaudits every year. This event is adored by all levels of athletes, from those who lead the pack to those pulling on a wetsuit for the first time. What's more, as in the London Tri, you can also take on the Weekend Warrior, the record currently stands at 9 sprint triathlons completed over the weekend, held by Shaun Wood.
9. Zalaris Norseman Xtreme Triathlon (Eidfjord, Norway)
Distance: Full Distance (3.8k swim; 180k bike; 42.2k run)
Date: Sat 6th August 2022
Regarded by many as the ultimate test of endurance, this is almost unarguably the hardest triathlon event in the world. Only the toughest attempt this feat, meaning the field is fairly small. The organisers stress that the experience is more important than the finish time. It's pretty much impossible to set a PB here. After a testing swim through the freezing waters of the often choppy fjord you'll have to climb over 5000m in elevation on roads and trails to the peak of Mount Gaustatoppen. Being as tough as it is, the DNF rate is as low as 2.8%, which is a testament to both the preparation of the athletes and the excellent support they receive throughout the event.