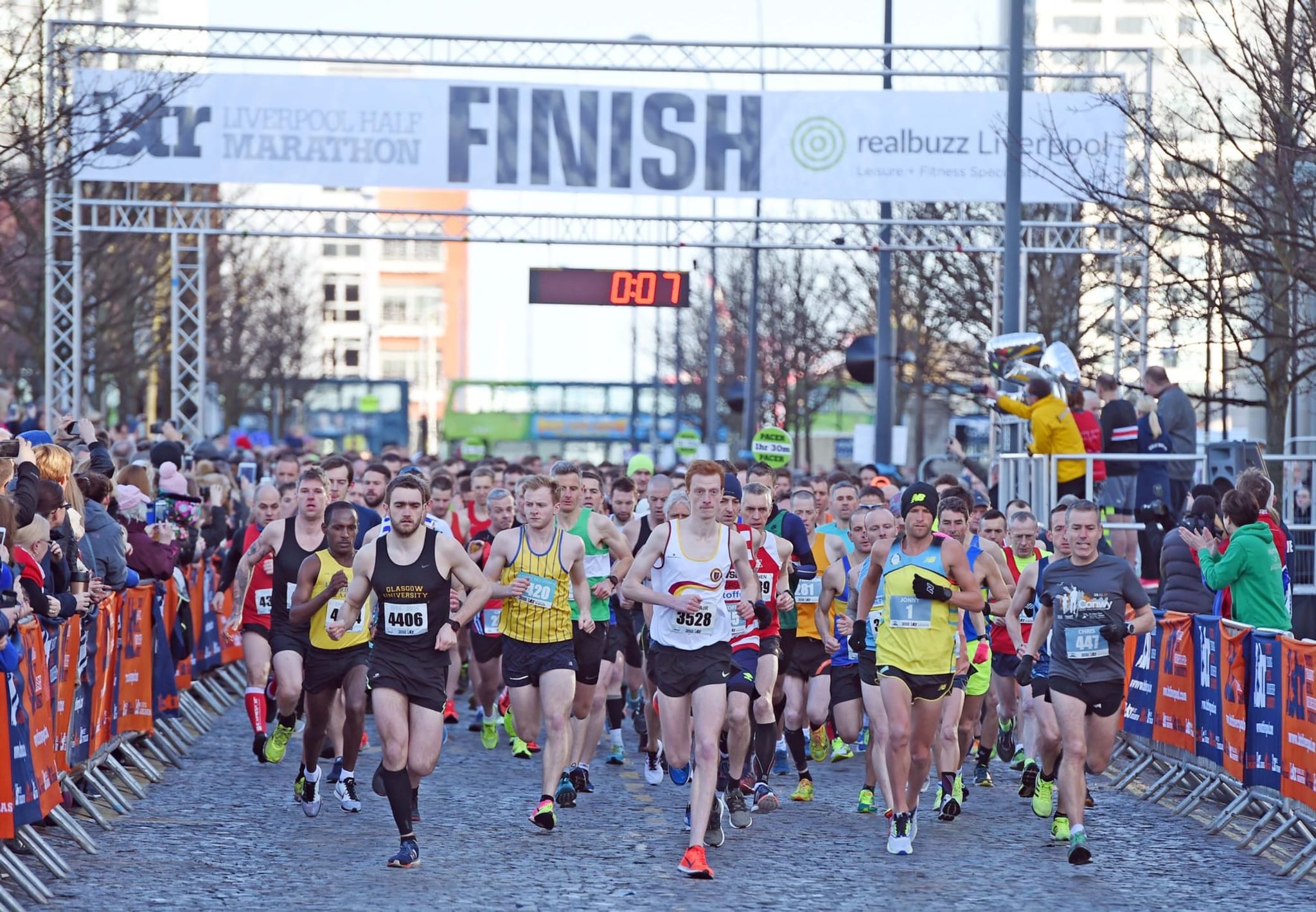 Liverpool Half Marathon & 10 Mile
Sun 10th Mar 2019
Pier Head, Liverpool L3 1DP, UK
Race in Liverpool's most historic road race on this scenic course along the River Mersey. This race will attract all runners and is a big event in the city. Come for the finisher's medal and kick your feet up with a bite to eat and drink after the race.
Road

Closed roads

Finisher's medal

6000 participants
From the organizer
Organizer's website
Welcome to the Liverpool 10 Miler which is being run alongside the BTR Liverpool Half Marathon. As many of you may know the Liverpool Half Marathon is the longest established road race in the city and a new race distance of 10 miles was introduced to encourage 10K runners and perhaps some less experienced runners to try an intermediate distance on the way to a half marathon. It has proved more than popular with both previous years being sold out.
Distances in this event
Run 13.1mi

9:00am Sun 10th Mar 2019

Run 10km

9:00am Sun 10th Mar 2019
Reviews (29)
Course

Organisation

Atmosphere
Did the Half Marathon in 2019

Well organised event, fairly flat apart from an incline around 1 mile. Apart from that I found the course mainly flat with slight downhill parts. Hard going on the pier front if it's a windy day! Would highly recommend this race, I've ran numerous half marathons and 10K but this one was my favourite.

Did the Half Marathon in 2019

Well organised, once the hill, parliament St, out of the way its a nice course, but if bad weather like today the prom is a nightmare, overall good day.

Despite this being called the Liverpool Landmarks Half i dont really see what significant landmarks it takes in. Undoubtedly its a fast course withbthe onky real hill being 650m up Upper Parliament street. Enjoyed the section around Sefton park and down to Otterspool.
My main criticisms are tegarding organisation. It was a wet day and nowhere for anyone to shelter apart from on the baggage buses. If you had a bag you just dumped it - nowhere to leave it safely, or ticket for collection. Just plonk it on any bus, anywhere and try to remember where it was.
I like the medal but the t-shirts may as well have been one size. The queues at the end for drinks and snacks were ridiculous. I applaud the idea of no plastic waste but other events manage to give out end of race stuff far more slickly. I wont be doing this race again - there are so many better ones to chose from.

First time running BTR Liverpool Landmarks Half. Ran Liverpool Rock n Roll Half last year which has some similar sections so knew what to expect. Good mixture of urban, park and the prom. Race number was posted out well in advance with an excellent information sheet provided. Being city centre location no issues with parking. Loads of portaloos by the start line so no issues with queues. Was a fairly large field so quite congested at the start until the joy of the climb up upper parliament street hit us after the first mile which started to thin the field out a bit. Weather was not the best and with 50mph winds the four mile stretch along the prom was a challenge in itself. Plenty of water stations and great support from marshals throughout the course. Some good sections of crowd support thrown in despite it being a grim day. Cost was £33.50 which got you a great medal, tech tee shirt, water, canned drink, banana, crisps, energy bar. Well organised event which I would definitely do again.

Wow where do I start really good course flat after about 1 and a half k the only downside is the hill upperparlamant Street the long and straight hill, the atmosphere the crowds the course everything is as it should be fantastic untill you hit the dreaded 4 last miles of ottospool prom as a liverpudlian I should be saying its all fantastic but the dreaded prom is so borning it just goes on and on and on but do t let me or that put you of the medal and the support is awwsome what's not to love I've do e it the last 3 years running and I'll conto ue to do it would I recommend it hell yes. 5* for everything

Ran the 2019 race with my wife having done so back in 2017. I love the vibe of this event, great atmosphere at the build up, plenty of porta loos, loads of easily accessible baggage buses - well organised.

The route itself is decent, not being a liverpudlian I'm not well knowledgeable on the local area but I love this route. It's certainly not flat but all the elevations are fair ie you get back what you put in.

Afterwards you are looked after well with a t-shirt, medal and various goodies, the finish area is good with good atmosphere. There are decent little pockets of support around the course but not great however in 2019 that would have been done to the horrendous weather!!!

The last 4.5 miles of the route should be beautiful running along the Mersey front, however we where met by 55 mph wind this year which I literally saw side swipe someone off their feet! Nothing the organisers could do but the weather this year was absolutely dire - torrential rain before and during for large parts and the aforementioned violent winds made a PB near enough impossible!

However, the organiser could control something and I have a big criticism here, there is a 10 mile race within the half marathon, and this results in some awkward situations. The faster runners at the half marathon catch up to the part of the course where the 10 mile runners are on. But the trouble is you might have runners at 6:30 a mile pace trying to pass runners at 12 minute a mile pace, in some sections where the path is narrow, and when you get some social Sharon's going 4 in a line with no respect for quicker runners, giving you verbals for trying to get by then you know there's an issue. It doesn't work for me I'm afraid.

Still a good race though and I'll recommend it!

This was my second time running the Liverpool half .The reason i repeated the race was the distance measured short in distance 2018 .I was determined to gain a pb so i found my pacer for 2hours 10 minutes which was my aim .The course itself is relatively flat apart from a section at the beginning leading up upper paliament street .The pacers i ran with kept us informed of hazards coming up and the direction we where headed .There where a lot of potholes puddles and bollards which they clearly made me aware of which was a grear help .They also gave us regular mile marker updates and water station updates which again was very good .The course takes in two parks and finishes on the water front which is roughly 4 miles in length .The weather was not on our side as it was cold ,wet sunny but worst of all windy there was only snow missing .When we hit the water front at 9 miles we encounted 50 mph headwinds which by far is the worst ive ever ran into .I just gritted my teeth and battled through it by the 11 1/2 the group i was running in had been decimated by the wind at this point i asked the pacers Eddie and Judy if we were ahead or behind pace which they replied 1 minute ahead ,at this point i decided to go on from the pacers as they were dropping the pace to pick some of the runners up . At the finish the wind seemed stronger but i battled through to finish in a new pb by nearly 6 minutes . I would like to thank Eddie and Judy in helping me and i would highly recommend running with a pacer if you want to gain a pb .The medal and technical t shirt are brilliant that i recieved .I also got offered water ,still canned drink ,protein bar and a banana at the finish line .Also its worth mentioning id signed up before the race that if i beat my previous pb i would gain a seperate medal which will be posted out to me

A great course for PB if the wind isnt in your face fir the stretch along the water front

First time doing this race. Atrocious conditions but everything else was good. Course is a mix of urban, parks and promenade so relatively scenic for a city based race. Plenty of marshals where required but local support was a bit lacking due to the weather. Last five miles along the prom were into a fierce headwind and it was a long drag. Logistics and instructions were great, plenty of water stations, relatively flat course (thankfully there were loos at the halfway point), nice medal and a t-shirt that doesn't glow in the dark, which is always a bonus for me. Nice to see running friends handing out goodies at the end (drinks and snacks). Would definitely do it again but woukd hope for better weather - did I mention it was windy? :-)

It was a very cold and blustery day but the course was well marsheled and considering the conditions alot if support at the start/finish line. Fairly flat course.
Questions & answers
Get answers from our team or a member of our dedicated community.
What would you like to know about this event?
Submit
Hi are there any changing facilities or showers available after the race. Travelling from Birmingham for this. Cheers.

Hi there. Just to let you know there are changing facilities and showers, however these need to be booked in advance. Full details should have been provided in the race instructions which were sent out - please feel free to contact us at

[email protected]

if there's anything else we can help with!
Similar Events
Loading
More from BTR Liverpool
The Port Sunlight 10K and 5k take place in the lovely surroundings of this historic village. The start and finish of the Port Sunlight 10K and 5K races are on the green at Windy Bank in the center of the Village.
Port Sunlight 5K and 10K
•

Port Sunlight Village Trust, 23 King George's Dr, Bebington, Wirral CH62 5DX, UK
Port Sunlight 5K and 10K
Stay up-to-date
Personalised race recommendations near you, important ballot openings and race discounts.