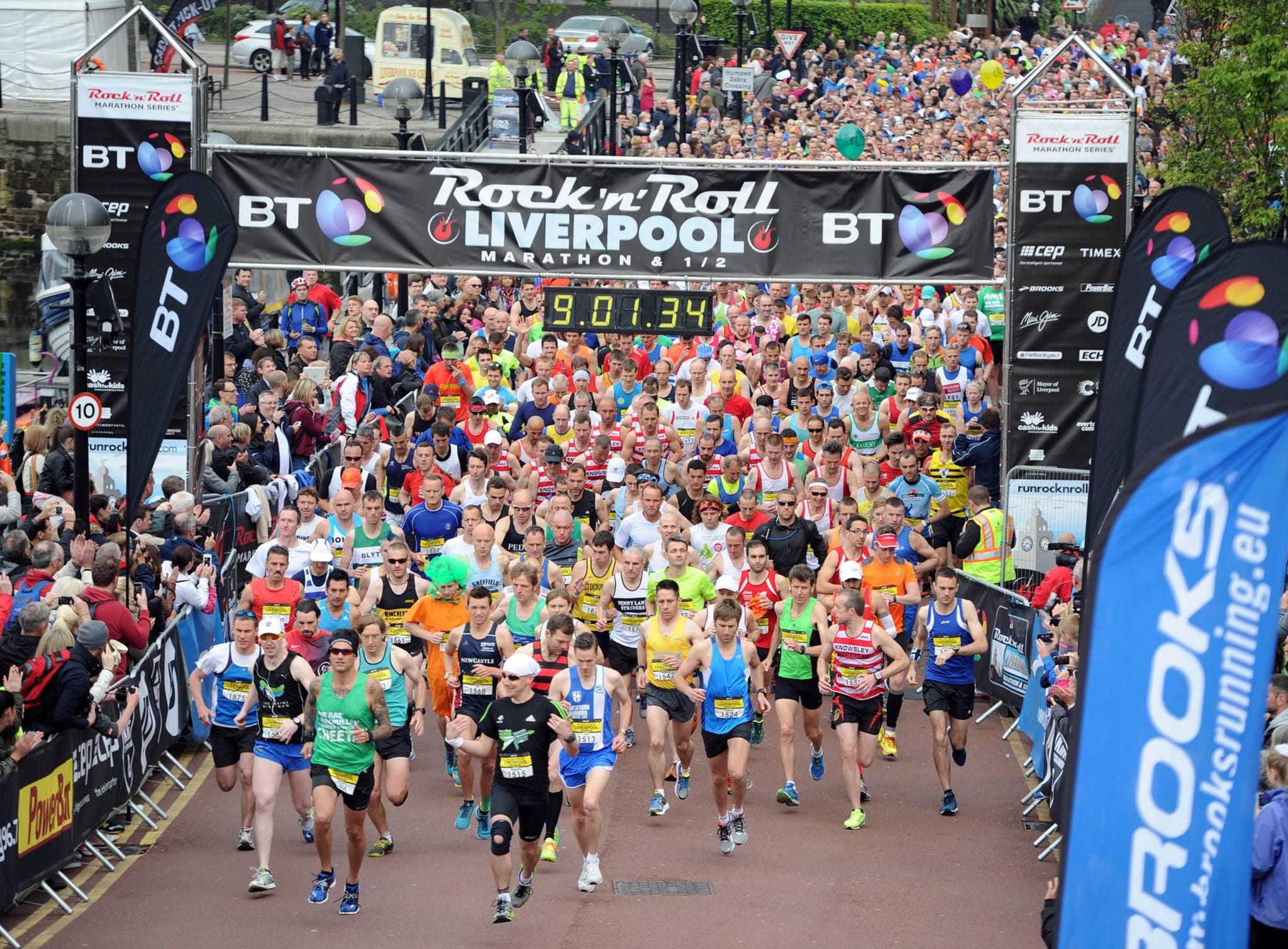 Rock 'N' Roll Liverpool Marathon, Half Marathon & 5K
Sat 25th May 2019
Britannia Vaults, 115 The Colonnades, Liverpool L3 4AB, UK
Run through the streets of Liverpool in races ranging from 1 mile to the marathon. Perfect for runners of all levels, with a few hills and a pleasant run along the river foreshore. Come to soak up some Beatles nostalgia in the home of rock 'n' roll.
Road

Finisher's medal

Finisher's t-shirt
From the organizer
Organizer's website
Race through the city where Rock laid its Roots! Walk or run in the steps of the Beatles, and let the beat go on as you discover Liverpools rock/ pop history along your marathon or half marathon journey.
Distances in this event
Run 26.2mi

10:00am Sun 26th May 2019

Run 13.1mi

9:00am Sun 26th May 2019

Run 5km

9:30am Sat 25th May 2019

Run 1mi

1:00pm Sun 26th May 2019
Reviews (77)
Course

Organisation

Atmosphere
Amazing. My first marathon, brilliant course through the city centre taking in football stadiums & parks along the way. I'll be back in 2019.

Did the Half Marathon in 2015

This was a great fun event, really enjoyed it and the music really kept me going!

Tough run in the heat meant a slow time- plenty of drink stations and well manned helped.

The course was well planned and easy to follow with plenty marahals and supporters alonf the route.

I juat wish the promenade was shorted as it was never ending.

As always an amazing medal and great entertainment after.

Excellent mainly flat course with live bands and an amazing atmosphere throughout, with a free beer and great bling

Only done the half due to injury and not having no training in so all in all its a home run its a route that my club run occasionally every Wednesday so its a Dockside runners race as we call It crowds, water station, spectators, and the route was fantastic the bands OK no over Impressed the finish was brilliant loads of crowds cheering you it's a tear jerker, I enjoyed it so much I booked the full for 2019 weather was glorious would recommend but its a great race so i don't really have to recommend.

Rock and roll man.I think this race did not live upto the name and hype of the event the bands were poor and quiet the route was a pain everytime you hit your stride then bam another hill andni enjoy hills. Crowd support was poor in the latter miles and running the mersey was a horrible borung mund numbing finish .

In all honesty, although I had a great time and hey completed my first marathon, personally I don't think it was as good as all of the hype. I have no doubt that it was amazing for thise who completed up to around 4 hours but for those of us at the back it was a pretty poor show.Not the fastest runner but finished within the cut off time and have to say dissapointed was an understatement. Whilst running the course the bands had either finished playing or had started to pack away. No music at the time when it was needed the most.The crowds were fab at the beginning of the run however by the time we had got round there was barely anyone in sight. Not the fault of the oraginsers of course. It cannot be helped.Marshalls and water stations were ace. Shame the gels had run out at some of the stations though as stupidly I didn't take extra.The route itself was brilliant. Running through Anfield staduim and around Liverpool was great. The weather was hot, a little too hot but can't complain when the sun is shining.The mini festival at the finish was... well I cannot comment really as it was over before we arrived. The headliner was on at 14.00 which only gived you 4 hours to get back if you want to see it. Certainly not Rock N Roll I'm afraid.Free beer at the end was a bonus and the T-shirt was great (get's lots of use)All in all, I was not really very impressed and would not recommend it to anyone who is slower than 4 hours as otherwise you miss everything!This is just my opinion however and I did have a great day. There are plenty of faster people who I have spoken to or those who did the half marathon who said it was such an amazing day.

Plenty of pre race info by email and a quick bib pack pick up and race shirt collection on Friday afternoon. Expo seemed well stocked and busy but i don't bother with them personally.Excellent baggage drop set up in the spacious Exhibition CentreRace started late, same as last year, due to the half talking longer to get started...i find this very annoyingVaried course through the City passing various iconic landmarks (and Goodison Park), some nice parks and residential areas with a "marmite" 3 mile stretch along Otterspool Prom near the finishCrowd support is mixed with great numbers at the start and finish, but non existant in some parts. Very well supported by volunteers and marshals with local running clubs manning some aid stations and local bands dotted around the courseCould do with a bag to put the wide variety of goodies in at the end, carrying bananas, bottles,crisps etc is difficult without a bag when you're knackered.Fantastic quality medal(s) ... i qualified for the additional Encore medal having run in 2017.Poor quality tech-shirt.Over priced race photosIt's a great atmosphere and i'll be back in 2109 probably to do the Half

This race came highly recommended - and I would certainly recommend it. I entered the Marathon on the Sunday, but there is a half marathon option with a 5k on he Saturday.As the title suggests, the race is based around music. Every few miles on the course, there was a band or DJ playing - this certainly helped towards the end of the race. The Marathon started at Albert Dock and headed out of town towards the football grounds. A lap of Goodison Park before a run through Stanley Park towards Anfield. You got to run through Anfield along the concourse and even had the opportunity to get a photo overlooking the pitch. The route went back into town and ran by the Cavern Club and then took in Penny Lane. Following a route which took in parks and main roads, we headed towards the Mersey and the final 4 miles to the finish. If you were a bit quicker than me, (6 hrs), you would get to see a concert at the finish line, but the atmosphere was still great.This is a fantastic event and one to return to!

Deciding on which marathon to choose as my first having not got into London I read a few reviews and decided Liverpool would be the one and I wasn't disappointed.It was very well organised from the beginning. I received my racepack in the post but I still went to the expo on Saturday afternoon, which was nice to start getting into the spirit of things and pick up my t-shirt.On race-day it was incredibly warm but there was enough space on the course to not make it crowded and plenty of water & aid stations along the way. All the marshalls and volunteers were great. The crowd support was sparse in areas but that was to be expected and it didn't matter as you had bands playing at regular intervals. Everyone, runners, marshalls, volunteers were all very friendly and I found myself running with a smile on my face for most of the race no matter how much my legs hurt. The route went up to Goodison Park and through Anfield stadium which was a nice touch, before heading back into town and out to Sefton Park. I found the park one of the hardest parts as it felt so warm but it was a lovely place to run. After running around the park you make your way back to the prom for the 'finishing straight' which is about 4 miles long, mentally that was tough but when you saw the finish line was lined with so many people cheering you on it was brilliant.Overall it was a great race, the heat definately played its part along with some of the meaner hills but all in all a great race and I will definately be back.
Questions & answers
Get answers from our team or a member of our dedicated community.
What would you like to know about this event?
Submit
Similar Events
Loading
More from Rock 'n' Roll Marathon Series
When you sign up for emails, youll be one of the first to know when general registration is open, get the most updated race information, special announcements, and more. Dont miss a beat and join today!
Rock 'n' Roll Nashville St. Jude Marathon
•

235 Willow St, Nashville, TN 37210, USA
Rock 'n' Roll Nashville St. Jude Marathon
Madrid Marathon will be the first international event in the Rock n Roll Marathon Series, and the Maratn de Rock n Roll Madrid to debut in 2012. First held in 1978, the event takes place each April in the capital of Spain and is one of 11 events with IAAF Silver Label Road Race status in Europe. The marathon is one of the most important athletic events in Spain and annually welcomes 15,000 runners and 1 million spectators.
Tradition and much Rock'n'Roll is what awaits you if you decide to run the 42K: vibrant, special and incredible journey that along which the flagship race of the capital of Spain. If you are looking marathons in Madrid awaits one of the greats. You will be very close to the warmth of our people and enjoy full of tradition, modernity and dynamic environment. Not for being the little sister of the other two distances is the least important. Enroll in one of the most spectacular 10K races in Madrid and enjoy an event by and for you.Get creative!
Rock 'n' Roll – Madrid
•

Calle Manuel de Falla, 92, Madrid, Spain
Rock 'n' Roll – Madrid
Stay up-to-date
Personalised race recommendations near you, important ballot openings and race discounts.