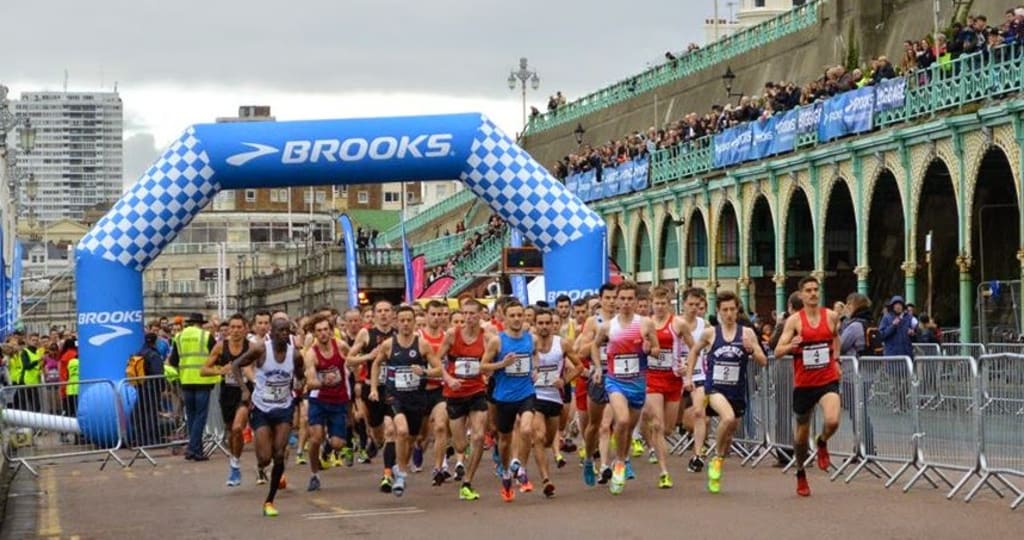 The Brighton 10K
Run 10km
This event is popular
Viewed 900+ times this week
The Brighton 10k is one of the South East's longest running 10k road race and the oldest 10k in Brighton and Hove. Established by Brighton and Hove's Athletics Club in 1984. Olympic athlete, Chris Carter, set up the race to promote running and fitness, and to raise funds for the club and local charities. The race raises money for Brighton & Hove Athletics and other local groups supporting sport in the city.
We hope that you can join us this year!
Review summary
Course

Organisation

Atmosphere
"4.5 hours later and still no times. Site talk about a wonderful 24 customer..."
"Having seen only one review for this event and that being a negative one I felt..."
"I'm local to Brighton and have done this a few times. A flat course and good..."
How to enter the The Brighton 10K
The Brighton 10K route
THE COURSE
The fast, flat course is ideal for runners of all levels and is held on traffic free roads.
RACE SPEED
Whilst the front of the race may cover the 10k course in under 30 minutes (course record under 29 minutes), there are plenty of people finishing after 60, 70 or 80 minutes - there will be no judgement of your time, just admiration for you having done it.

For all those in between, the speed at the front provides an opportunity for everyone to get a good time - 36 min. runners dragged to sub 35 min, 46 min. runners to sub 45 mins and so on down the line of exhausted but happy athletes.

THE COURSE SPECIFICS
The start (and finish) line is located on Madeira Drive, approximately 500m East of the Palace Pier. The race heads west along Madeira Drive and the A259 as far as the King Alfred in Hove (3.5k). Here the course turns left down to Kings Esplanade and then onto the Prom as far as the Peace Statue (just after 5k). Here the route rejoins the A259 back to the Aquarium and onto Madeira Drive, passing the start/finish (7k) to reach a 180 degree turn at Black Rock and a 1500m sprint back to the finish.
The start will be graded with the fastest athletes at the front - please be aware that you will get a time based on crossing the start line (as well as a "gun" time), there is no need to worry about having to be near the front, as being surrounded by runners of a similar standard will actually help everybody to have a (fairly) clear and safe run.
Questions & answers
Can I defer or sell my place ?

Hi there. If you send an email over to our customer support team they will be able to help you -

[email protected]

After booking are we expecting anything in the post and what should we take to the run to gain access?

Hiya, I just wanted to double check whether this event is still going ahead in 2019? My confirmation email takes me to a webpage where it says it's been cancelled? Has it been taken over by another organisation? Cheers!

I booked for this event a few weeks ago on 10th October via active.com and received confirmation of registration and a barcode to be presented at the event. No number has been sent out to me or any other info at all. First I want to confirm I still have a place as I saw something about the event being taken over by another provider, I guess yourselves. My name is William Mitchell and I have an Reg ID of R-OYV052JJ. Please also confirm how I get my number, it was always sent in the post in the past.

HI there William, thanks for getting in touch. Just to let you know that Let's Do This don't actually organise the event or even take bookings, we just help with marketing. We are pretty certain that the race is going ahead and you will be able to collect your race number the morning of the race at registration

Hello. Like the person below, my information email tells me the event is cancelled and I've also not received my race number. The same is true of a friend. Could you please direct me?

Hi, do you know if there are any places available or if I can be on the reserve list due to any drop outs??

Hi both myself and my sister were Sent the wrong persons chip time. Mine was for someone called Peter! How do we find out our actual results?

Hi - where can I see the results for today? Can't seem to find them anywhere, Thanks
The Brighton 10K weather forecast
Overcast throughout the day.
Light breeze possible, up to 7mph
The Brighton 10K reviews (10)
Course

Organisation

Atmosphere
Reasons people recommend this event
I would like to thank Keith and all of the volunteers and helpers for an outstanding race. My team of 7 athletes were made welcome and we travelled from all over the country including Scotland, to attend this event.
We will be back next year.
Thank you 😁

I'm local to Brighton and have done this a few times. A flat course and good value. There does seem to have been an issue with times this year as like others I have been texted someone else's time and I cannot see the results anywhere yet either!

The course is flat and good for first timers or people training for bigger events. I never got my race number posted unfortunately. When I asked for another one at the information desk. I was made to feel slightly embarrassed as to why I did not have one. The medal was poor for the fee paid. I looked like something you would give a 7 year old after sports day. Would I run the race again yes. But the customer service and medal definitely needs improvement.

Very disappointed to see my medal just put in a bag and not beat pleased to receive a text with somebody else's name and time..

This was my first ever run and is very good for beginners. Friendly atmosphere, easy route to run and flat. However I got a text message telling me about another persons time and not mine? Waiting to see my time and links to see photos that were taken.

Where are the race times? I got a text message with addressed to someone else with someone else's time!

Always good but please change the medal. It really is awful compared to others. I have over 130 and have done this race each year but it never changes and it xould be so much nicer.. bit disorganised at the end today but got a pb. Everyone is friendly and its a good one to do

I've done this race for last couple of years and really like it - great course and runners can really spread out.

Having seen only one review for this event and that being a negative one I felt I wanted to put my point of view.

Firstly superb organisation, Everything clearly laid out but without the glossy magazines and media hype of the "professional fun runs". This reflects very nicely in the price which is about half or less of other events. The course is flat, The Marshalls brilliant, the crowd support great, the bling looks good and frankly everything is brilliant.

Definitely one to go in my diary for the next year. A big thanks to the organisers.

4.5 hours later and still no times. Site talk about a wonderful 24 customer service. Not heard any response to my enquiries.
PS... 🥉 Is a bit rubbish
Events in the United Kingdom
Running Events in the United Kingdom