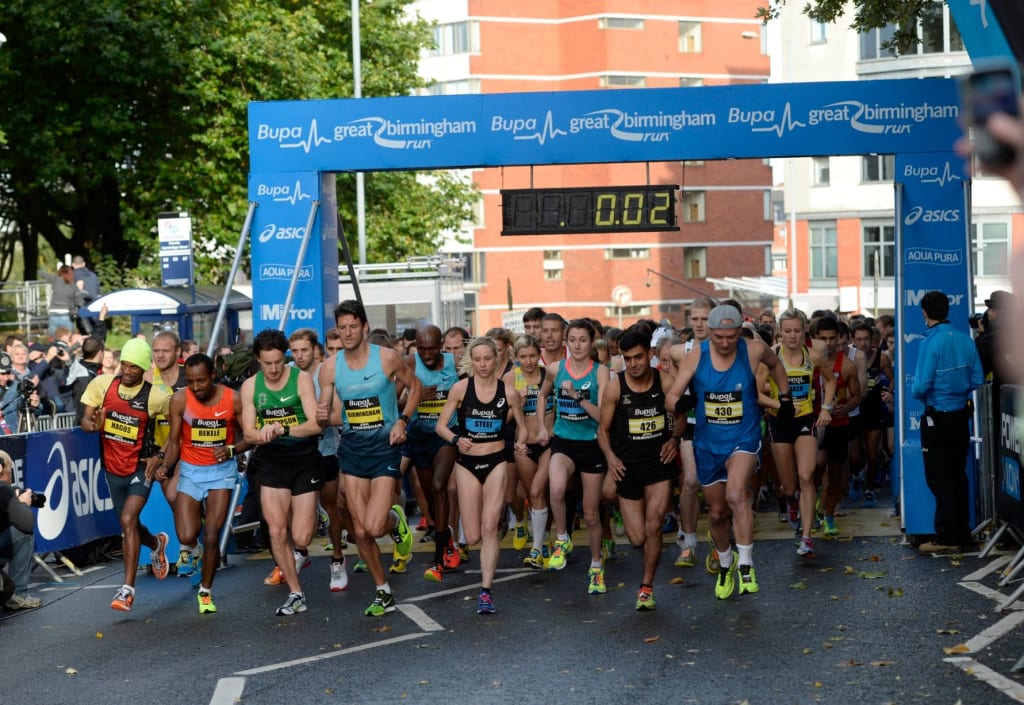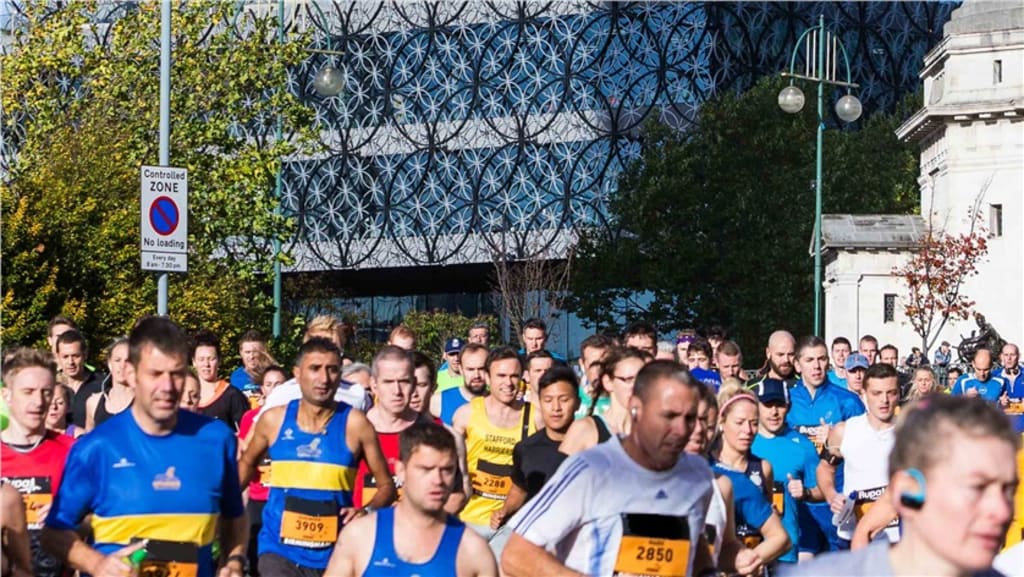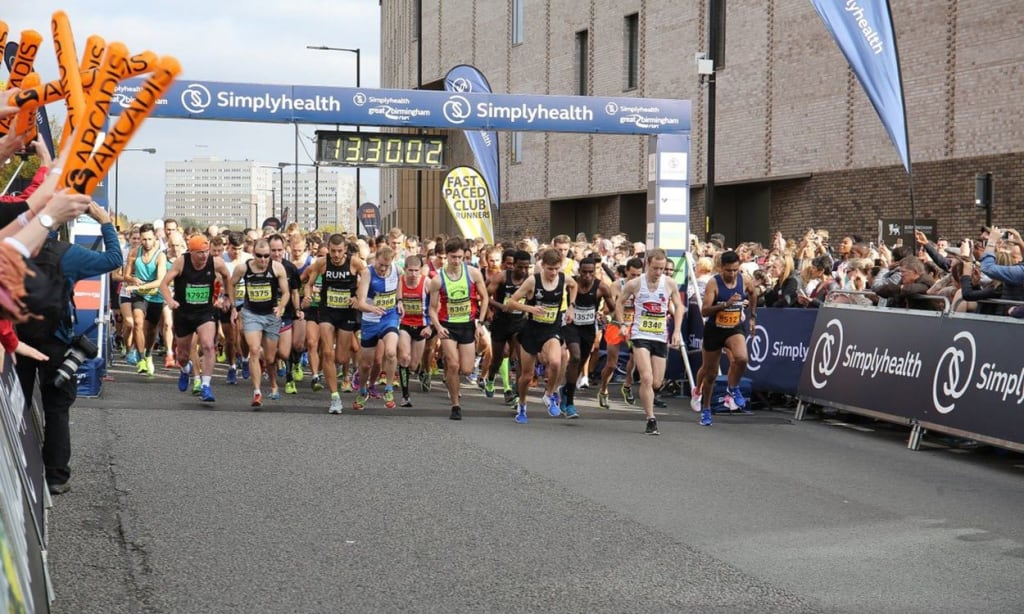 Great Birmingham Run
Run 13.1mi
This event is popular
Viewed 250+ times this week
Speed through the crowd filled streets of Birmingham in this half marathon. Great for first-timers and experienced runners alike, the course winds through the UK's second largest city and past its key landmarks. Come for the epic race day atmosphere or for that cherished finisher's medal.
Review summary
Course

Organisation

Atmosphere
"It was a great event, I have run in few event around the West Midlands in the..."
"Well organised, would recommend! The first half of the course is flat or..."
"They seem to change the course every few years but it's well organised and get..."
How to enter the Great Birmingham Run
Do it for a good cause. Make those miles count and register for a charity place.
Standard Entries

Charity Entries
Great Birmingham Run route
The Birmingham Half Marathon starts and finishes in the city centre. Runners will loop down past Edgbaston - home of Warwickshire Cricket Club - before heading right down toward Cadbury World and looping back up to the city centre.
This race will be run of closed roads, so athletes need not worry about traffic. There will be refreshment stations throughout and the course will be well marshalled as well as distance-marked.
Frequently Asked Questions
At what time does the Great Birmingham Run start?
The race start time for each competitor depends on your wave COLOR. Start time ranges from 9:30 to 11:05.
Is the Great Birmingham Run family-friendly?
The minimum age is 17 years old.
Which roads will be closed?
You should plan to arrive early and take in account road closures. All road closures can be seen here: https://grimages.blob.core.windows.net/blobgrimages1/documents/2018-09-26-GBR_2018_Road_closure_map.pdf
Have a question? Get answers from our team.
Is your question about booking your place? See our Help Center
Great Birmingham Run weather forecast
Drizzle throughout the day.
High chance of rain
Light breeze possible, up to 8mph
Meet the organizer
#10
The Great Run Company are ranked #10 in the UK out of 270 organizers
The Great Run Company is a United Kingdom events company specialising in the development, design, organisation and rights management of mass participation and televised sporting events. They most notably organise the Great North Run, Great South Run and Great Manchester Run annually.
Other events from this organizer
Great Birmingham Run reviews (7)
Course

Organisation

Atmosphere
Did the Half Marathon in 2018

They seem to change the course every few years but it's well organised and get atmosphere. I've enjoyed it so much I've managed to complete all of them so far

Did the Half Marathon in 2018

I haven't run since doing this race. It broke me mentally and physically. It rained the whole way around. I kept slipping. I wouldn't do this run again. It really put me off. The rain was torrential the whole way around.

Did the Half Marathon in 2018

Well organised, would recommend! The first half of the course is flat or downhill! The second half has a few hills! Lots of support even though it was raining the whole event!

Did the Half Marathon in 2018

Really well organised course with helpful marshals, clear signage and great support pre-race (training schedules, community support). It was a terrible day weather wise, but the supporters who were out were absolutely brilliant and the bands added to a great atmosphere. There was plenty of water, gels and toilets on route, and the course was predominantly flat or downhill. Not a scenic route, but the parts around broad street, the cricket ground and cannon hill Park were great. I wouldn't hesitate to do this race again, it was my first half and I loved it!

Did the Half Marathon in 2018

It was a great event, I have run in few event around the West Midlands in the past 2 years! I felt like the great Birmingham event was far more the best I have ever seen! The music all along, the audience and lots of free bits at the end! I ve never seen any event like the great Birmingham 10k of 2019! Really enjoyed it and it inspired to do the next Birmingham half marathon!

Did the Half Marathon in 2017

This was my very first half marathon, I can honestly say it did not disappoint. When I arrived, there were lots of signs and people at hand to point me in the right direction of the registration stations, which helped ease my nerves straight away. There were different stations for different waves. I had chosen the challenger wave: this was a good pace for a beginner who had been training hard and wanted to try and aim for just under a 10 minute mile pace. The start of the race was well organised with waves being called to the start line for their warm ups in intervals, and then away you went. The route was pleasant, as were my fellow runners. Many offered encouraging words to anyone who appeared to be flagging. At one stage, I developed a cramp in my leg so walked for a moment; at this point one of the Duracell pacers (who happened to be an Olympic runner, who was holding the 10 min mile pace flag) spurred me on with her words of encouragement. Along the route there were toilets and water stations, they were easily accessible and plentiful so did not put any strain or stress on sabotaging my target time. I did not use the toilets so I am not aware of the condition they were in or the queuing time involved. The crowds along the way were wonderful, often calling out my name and cheering for me (as my name was on my bib) and offering refreshments, sweets and even comical signs, which put a smile on my face at even the most painful moment of the race. Apparently, on previous versions of this half marathon, there was a particularly nasty hill towards the end of the route; but luckily the year I participated the route was rerouted because of roadworks. There were a few hills towards the latter end of the route but nothing that was unmanageable; it was mostly a flat route. I would definitely recommend this race to first timers and anyone looking for a great atmosphere: I will be coming back again in 2019 to try and beat my time.

Did the Half Marathon in 2018

Great race despite the awful weather!
Events in the United Kingdom
Running Events in the United Kingdom