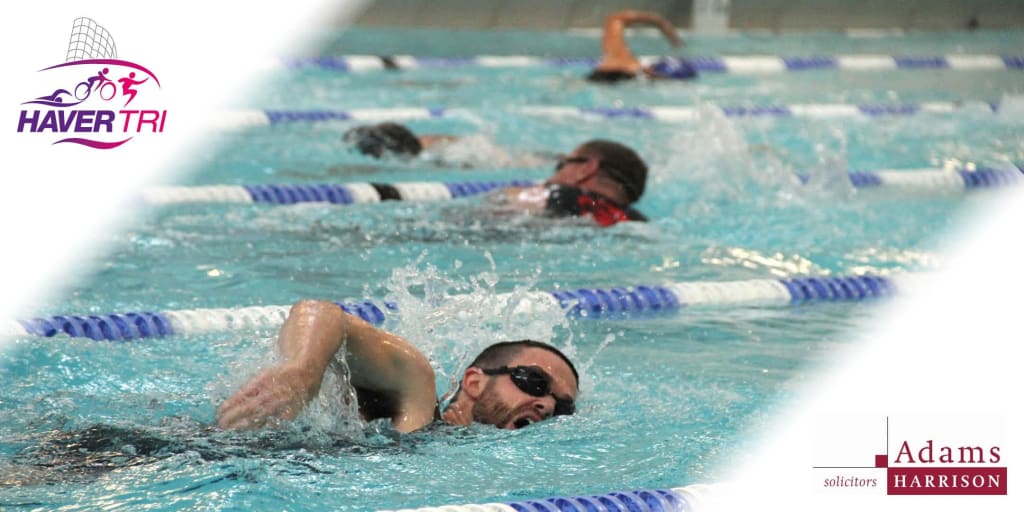 HaverTri The Adams Harrison Triathlon
Suggest an edit
See any improvements? Be the first to make this page better.
Why book with us?
Official booking partner

Best price guarantee

Free injury protection
Have a question? See our Help Center
We're #1 for customer satisfaction
HaverTri - the Adams Harrison Triathlon Festival is back for 2019! Now in its fifth year, this event will see athletes take part in a variety of events including Triathlon, Aquathlon, and Duathlon. Brought to you by HaverSports, the event is sure to see a wide range of returning and new competitors!

A pool swim, fast cycle through village roads and flat, sheltered run course make it ideal for novices, with a longer distance available for veterans too. The route is mostly shared between distances and events, which makes for a stunning atmosphere on the route.

Chip timed for accuracy, with results available throughout the event to see competitors progress.
How to enter the HaverTri The Adams Harrison Triathlon
Triathlon: Swim 0.3km, Bike 22km, Run 5km

Triathlon: Swim 0.6km, Bike 45km, Run 10km

Duathlon: Run 6km, Bike 22km, Run 6km

Duathlon: Run 10km, Bike 45km, Run 10km
HaverTri The Adams Harrison Triathlon routes
Because the swim takes place in a pool, it is difficult to offer a full length (Olympic) triathlon. In light of this, the distances are:
Triathlon Sprint - Swim 300m, Cycle 22km, Run 5km
Triathlon Sprint + - Swim 600m, Cycle 45km, Run 10km
Duathlon Sprint - Run 6km, Cycle 22km, Run 6km
Duathlon Sprint + - Run 10km, Cycle 45km, Run 6km


DUATHLON

The duathlon will begin with a mass start outside Haverhill Leisure Centre in Jubilee Square at 9am promptly. You must attend the same pre-race briefing at 8.45am.

You will head onto the run route, completing 1 lap for Sprint or 2 laps at the lap point for Sprint+.

You will then make your way to transition and complete 1 cycle lap for Sprint or 2 for Sprint+.

Having finished the bike and exited transition again you will complete another lap for to finish.

There is 1 water station on the run which you will pass once per lap. You will also be provided water at the finish.



AQUATHLON

You must be at least 8 years old to enter the aquathlon.

This will be on Sunday 6 October. You will be given an allocated start time.

You will complete your swimming section (detailed below) and then complete the running distance for your event (also detailed below). You can collect your race gear at registration.

The distance and route you cover will be determined by your age. You can compete in a distance for a lower age group if preferred (ie. an adult can compete in the 'Sprint' distance) though you must stipulate this when entering.



SWIM

You must start within the pool and not dive in. If you wish to overtake you must tap the foot of the swimmer ahead of you then overtake them at the end of the length.

The swim will be in a pool.

You will be given an exact start time before the race. Due to restricted space beside the pool please do not be at the poolside earlier than 10 minutes before your start time, unless advised otherwise. You will be able to wait either outside or in the cafe overlooking the pool.

You must swim on your front (front crawl or breaststroke). If you are struggling at any point in the swim and need help lie on your back and raise your hand into the air and the lifeguards will assist you. You will be starting in the deep end - if you need to use the steps to get in and out, please inform the marshals.

It is now compulsory to wear a swim hat under BTF rules. You can either bring your own, or buy a HaverSports one for £5, at registration or in advance.

We recommend you leave all your kit in transition and cover the short distance from exiting the pool to the astro barefoot. This is paved and will be swept clear. Only athletes are allowed in transition - if you choose to leave any kit outside of transition, such as shoes by the pool exit to wear to transition, we are not responsible for this.

This year for the swim your time will start from when you are designated and your swim time will finish when you exit the poolside area. Please do not rush to transition as your swim time will have already been completed.

Sprint

You will swim one length of the lane and then return, before crossing into the neighbouring lane. Having completed two lengths in each lane you will exit the leisure centre to head to transition at the astro turf.

Sprint+

You will swim up and down the lane twice, before crossing into the neighbouring lane. Having completed four lengths in each lane you will exit the leisure centre to head to transition at the astro turf.



CYCLE:

Your helmet must be securely fastened. Earphones must not be worn. Your number must be rear facing. Mobile phones must not be used. Cameras must not be used.

While we have done our best to make this a fast course you must still abide by the highway code and follow marshal's advice.

You will exit through Meadow car park, turning left at the mini roundabout on to Ehringshausen Way. You head right at the mini roundabout just before the arches where the old railway line passed, heading up Bumpstead Road. You go straight over the next roundabout and straight again at the following one, taking the B1057 to Steeple Bumpstead. You turn right at the end of the road and then take a left, heading towards Finchingfield. After exiting Steeple Bumpstead you take a left towards Stambourne, and then a right turn. In the village you turn left at the end of the road, and after exiting hang a left around a traffic island. You turn right at the next traffic island and emerge into Ridgewell on Drury Lane. You turn left onto the A1017 and follow this road back to Haverhill. You cycle through Sturmer and go straight over the roundabout to head back into Haverhill. You head straight over the mini roundabout at the foot of Chalkstone Way, staying on Ehringshausen Way, and over the next mini roundabout after passing under the arches.

If you are doing Sprint+ this is where you will turn left to complete a second lap.

You go over the Manor Road mini roundabout and then right at the next mini roundabout to head into the Meadow car park to finish, entering transition as you did for the cycle.



RUN:

Runner on routeIf you are wearing a front fastening triathlon suit this must be fully zipped up unless you have clothing on underneath. Earphones must not be worn. Your number must be front facing. Mobile phones must not be used. Cameras must not be used.

Sprint

You will leave transition the same way as on the bike and then head left, back towards the leisure centre before a short climb to join the railway line. You will head right and cross Manor Road before reaching Chalkstone Way. You will cross at the zebra crossing and run on the road to Sturmer. Here you will turn left on Water Lane and then left at the play area onto the railway line, where there is a water station. You will follow the railway line back to Chalkstone Way.

Upon reaching Chalkstone Way if you are doing Sprint+ you will complete a second lap, heading back to Sturmer. Then you will head down the path by the leisure centre, passing between the leisure centre and the astro before finishing on Jubilee Square.



TRANSITION:

The transition is on a sand-based astroturf. If you are concerned about the possibility of getting sand in any of your equipment please ensure you bring a towel or similar to lay your equipment on/wipe your feet to avoid and discomfort.

The astro turf beside the leisure centre will be used for transition. You will enter from the gate nearest to the leisure centre (facing the railway line) and exit through the gate furthest away (facing Meadow car park).

Upon registration you will rack your bike and must have a sticker attached to your helmet and one to your bike. You must show your helmet is attached properly (no more than two fingers between the fastened strap and your chin) to enter transition to rack your bike. When you enter transition from the swim you must wear your helmet and have it fastened before touching your bike. No helmet, no ride.

The marshals will have the decisive say on who can enter transition and who must wait. You must have your race number attached to be able to reclaim your bike at the finish, or failing that provide photo ID. Once finishers are ready to collect their gear priority for entering will be given to those who are in the process of racing.

Frequently Asked Questions
Is the HaverTri - The Adams Harrison Triathlon beginner friendly?
Yes, the race starts in a swim pool and goes through uncrowded village roads and finally ending in a final sheltered run. There are different race lengths for younger racers.
Is the HaverTri family-friendly?
Yes there are race age groups as young as 8 years, 9-10, 11-12, 13-14 and 15+. Younger racers have mostly swim and run events, while more experienced racers have separate races that include swim, bike and run.
How many competitors are expected to compete?
200 competitors are expected to participate!
HaverTri The Adams Harrison Triathlon weather forecast
Rain overnight.
Light breeze possible, up to 8mph
Meet the organiser
Are you the organizer? Claim this page
HaverSports is committed to delivering premier athletics events, starting this in Haverhill, Suffolk. The organisation also has the goal of raising thousands of pounds for local charities. HaverSports began with Haver10 and HaverHalf on Sunday 11 May 2014, when some 360 runners raised more than £13,000 for St Nicholas Hospice Care with Haverhill's first ever half marathon and 10k race. These races were the subject of a documentary.
Loading
HaverTri The Adams Harrison Triathlon reviews
There are no reviews for this event yet. Raced here before? Be the first to review this event.
How was HaverTri The Adams Harrison Triathlon?
Something missing?
We're rebuilding our event pages and would love your input. Please suggest anything you would like to see on this page.
Events in the United Kingdom
Triathlon Events in the United Kingdom