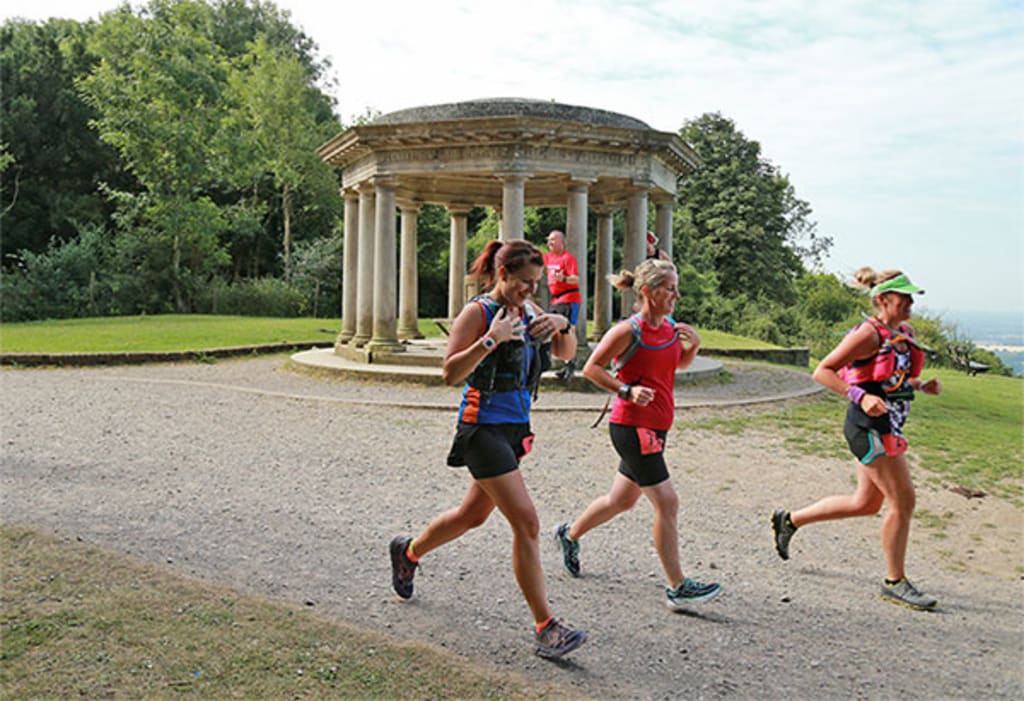 North Downs Way Marathon & Half Marathon
Suggest an edit
See any improvements? Be the first to make this page better.
Race through the idyllic north downs in this challenging trail run. Suitable for more experienced trail runners, the course takes you along the North Downs trail to the Bexhill Lookout point and back. Come for the epic medal and views.
Review summary
"Great event, tough hilly route. I did go wrong twice by missing markers, once..."
"A challenging course especially with this year's weather. Well organised and..."
"It wasn't quite what I was expecting. Didn't really realise it was a trail run..."
How to enter the North Downs Way Marathon & Half Marathon
North Downs Way Marathon & Half Marathon routes
This is a hilly course which is not easy as there are some technical assents / descents and the trail conditions are variable in nature dependant on the weather, you can safely add on at least 1 hr – 1.5 hrs hour to your normal road marathon time. There will be a strictly enforced cut off time of 7.5 hrs, with a halfway cut off time of 3.30 hrs and you will be asked to withdraw from the race and transported back to the race HQ if you do not make this cut off time. You will experience a mixture of undulating trail interspersed with tree roots, some rocky sections and there can be muddy or sandy parts of the course too if it has been raining in the lead up to the event. When you approach Boxhill there are quite a number of stairs to climb both up and down so please exercise caution and run sensibly on these technical sections. As the temperatures at this time of the year can also be warm, attention to detail is vital and your sweat rates will increase due to the elevation of the course, so drinking little and often is advisable whilst also ensuring you keep your blood sugar levels well topped up by taking the Tailwind, High 5 Gels provided or food at the respective Check Points as these will be very well stocked. The half marathon course is not quite as technical and hilly as the full marathon, although there are still some steep assents / descents and challenging trails to contend with the overall cut off time for the half marathon will be 7 hrs with the cut off time at the halfway point which will be at the Boxhill lookout being 3.30 hrs. With both these cut offs please try and ensure that you manage your time well.

Frequently Asked Questions
Will there be changing facilities and toilets?
There will be changing facilities in the tents outside the main hotel for male / female runners to change in and in addition there will be portable toilets situated on the main carpark outside the hotel
Will there be marshals on the course?
There will be marshals all along the route especially at the road crossing, and at respective check points.
Can MP3 players or iPods be used during the race?
No. The decision to ban the use of MP3 Players / iPod's is in line with the UKA / BARR regulations as there are busy road crossing sections on all the courses and in addition there is a duty of care to maintain relationships with members of the public using these national trails too. Your heath and safety is of primary concern so please do not wear these devices, as you'll be DQ'd if you contravene these rules.
Meet the organiser
Are you the organizer? Claim this page
Organised Race Events In Surrey & Kent. These include the Thames Meander (Kingston-upon-Thames) Surrey, Magna Carta (Runnymede) Surrey, North Downs Way (Reigate) Surrey and the Bewl Water (Lamberhurst) Kent. All of the races are geared up towards both the novice runner, as well as the more experienced veteran runners.
North Downs Way Marathon & Half Marathon reviews (12)
This was my first marathon! The weather and the hills made for a serious challenge. Everyone was lovely and very supportive, the course was marked well even with people tampering with signs. Aid station volunteers were fabulous! Love the Chia charge bars. Was tough but i made it and would love to come back again! Oh awesome medal too!

Did the Half Marathon in 2019

Great route cracking atmosphere fantastic marshals who made sure I got to the first aid tent straight away after taking a nasty fall at mile 10 a few bruises an 5 stitches no doubt I'll be back next year with some unfinished business

Did the Half Marathon in 2019

Organisation was exceptional and the people who attended were extremely friendly and supportive. The course's biggest problem for me was the fact that it was single file in certain areas. As a result, you had to stop running and let people through in several areas because the course requires people to run back the same way they came. As we set out on the half we started to meet those who started the marathon running back into us and then by the time I was running back i was running in to people who were behind me in the half plus the front-runners of the marathon towards the end.
Little side note - i bought the Hermes running shirt (medium) when i booked online. It is far too small (i have been a medium all my life) and i essentially can't wear it.

Did the Half Marathon in 2019

HAHAHA THIS ISN'T A RUN, THIS IS AN ORDEAL YOU WEAR SHORTS FOR.

Seriously, the terrain is insane.
The guy I ran with said he'd like to meet whoever designed it and shake them warmly by the throat.
Very little of this course is flat and some of it is so steep that it should be sponsored by Stannah.
Trail shoes are essential.
I'm very glad I did this but I'm not sure I'm up for it again.
It was very well organised well excellent feed stations and lots of friendly people.
There is a disappointed lack of finisher tshirts but an epic medal.
The registration point is at a hotel we described as "hilariously grim".
Poo early, there aren't many toilets.

Did the Half Marathon in 2019

Great organisation. Only slight issue was the no headphones rule, which I respect but might have liked to know about before signing up.
Course is incredibly tough. I was very pleased I was doing the half as the full event would have killed me. There's an immense satisfaction to completing it as it was so tough.
A lot of fun. Good work Hermes!

Did the Half Marathon in 2019

It wasn't quite what I was expecting. Didn't really realise it was a trail run when I booked it, or that it was for advanced runners... I got lost and ended up running an extra 3 km, fell over and got stung a lot by stinging nettles.... but overall it was a great experience! And the medal is just epic. A real workout! Thank you to all of the support on the day. I said I would never do it again but a day later I'm thinking about another trail run ha ha

Did the Half Marathon in 2019

A challenging course especially with this year's weather. Well organised and the volunteers were amazing

Very tough one with tricky, technical descents and brutal ascents. not to mention those gnarly single tracks. However great day out, friendly atmosphere and good support on the course.

Did the Half Marathon in 2019

Great event, tough hilly route. I did go wrong twice by missing markers, once on the outward down a hill when I should have turned right up a hill and on the return - again down a hill I missed a turn to the left. I'd recommend having arrows at both sides of the path or perhaps a red 'warning' ribbon on a branch when there is a sharp turn because if you're running fast and concentrating on where your feet are landing on mostly uneven surfaces you can miss them. Apart from that it was great as were the volunteers and all the runners.

Did the Half Marathon in 2019

Had a great day. Really tough course. Only grip was the guys at the turn around let us run past it without calling us back, got to admit I wasn't paying attention to where we were though. Fantastic medal.
Something missing?
We're rebuilding our event pages and would love your input. Please suggest anything you would like to see on this page.
Events in the United Kingdom
Running Events in the United Kingdom