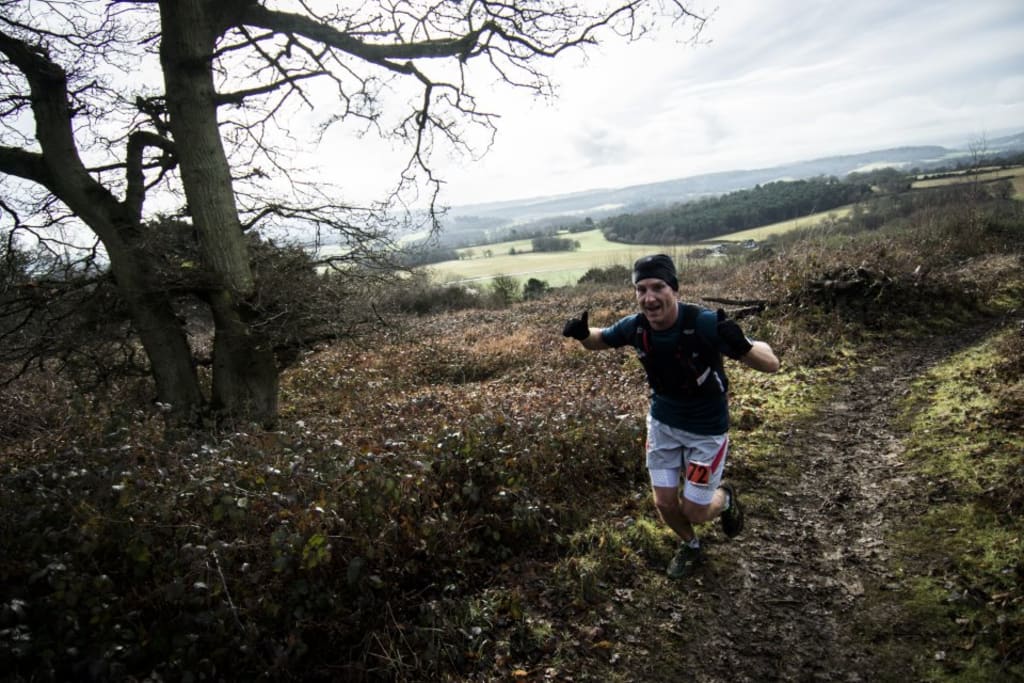 Pilgrim Challenge
Run 66mi
Following the route of the North Downs Way National Trail, the Pilgrim Challenge is firmly established as one of our best loved multi-stage ultra races. This, the oldest trade route in England, was used by Pilgrims heading for Winchester, Canterbury, Dover and the Continent. This ultra follows a glorious section of the ancient route, from Farnham through to Merstham, in Surrey, passing through picturesque villages and areas of outstanding natural beauty. Whether this is your first ultra of your 100th, the stunning scenery of the North Downs will take your breath away and take you to new limits. 4/5 February.
Review summary
Course

Organisation

Atmosphere
"Not sure if it was already on the communication sent out, but I was glad I..."
"My first ultra and first multi-day all in one! Everything was well organised..."
"Brutal, challenging, hilly, muddy and energy-sapping yet..."
How to enter the Pilgrim Challenge
Pilgrim Challenge weather forecast
Drizzle throughout the day.
High chance of rain
Light breeze possible, up to 10mph
Meet the organizer
#67
XNRG Endurance Events are ranked #67 in the UK out of 559 organizers
XNRG creates unique, very challenging multi-day ultra running and walking events with a great atmosphere that are totally focused and built around the competitors. We want our customers to enjoy the freedom of being able to focus on the physical challenge and not have to worry about anything else. We welcome and design races that will reach everyone who wants to push their boundaries and take part in endurance events. From beginner to expert, we welcome everyone who wants to challenge themselves with like minded people. The XNRG team have a mixture of experience in endurance events, from ultra running to Ironman to multi stage adventure races. Our passion for endurance comes from our many years of racing. Multi-day ultra marathon events in stunning locations. Simply, we do everything so you can just focus on your best finish!
Other events from this organizer
Pilgrim Challenge reviews (37)
Course

Organisation

Atmosphere
Did the Ultramarathon in 2018

Not sure if it was already on the communication sent out, but I was glad I brought trail shoes. Road ones would have been a nightmare on that course, as testified by a few poor souls I met!

Did the Ultramarathon in 2018

My first ultra and first multi-day all in one! Everything was well organised and friendly. The course was easy to follow - I was worried I would be getting lost a lot but didn't really have any problems on either day. A great course with really good trails, lots of mud, some tough hills and great views. A really enjoyable 2 days on the North Downs.

Did the Ultramarathon in 2018

Brutal, challenging, hilly, muddy and energy-sapping yet invigorating!

Did the Ultramarathon in 2018

Great course and race, lots of tun. I loved the mud which helps level the field a little. Course markings pretty good though some of the national trail wooden signs have been snapped off giving a couple of areas I needed to check my gpx file on phone nav. Mostly on the return leg.Great race and absolutely brilliant team looking after us, ta very much.

Did the Ultramarathon in 2018

My first Ultra and I loved it, even the mud! A very wet day but well worth the effort. The XNRG team were great and the checkpoints and the supplies were very apt and runner focused. Thank you, I'll be back.

Did the Ultramarathon in 2018

First time for me on this course and apparently this year wasnt that muddy! Well it was muddy enough for me, most people seemed to wipe out on it at some point over the two days. Otherwise a really nice course, excellent organisation and very friendly people.

Did the Ultramarathon in 2018

I arrived at the event with no problem and the post code took me straight to the start location and parking.There was no waiting to register and I picked up my race number and timing chip no problem. The race brief was througher and clear and a big emphasis on safety and staying safe which was great.The course along The North Downs Way was challenging with just over 4,500 feet of elevation along the 33 miles. The conditions were tough too and muddy reputation didnt disappoint which added to the challenge. Having said all that the course is beautiful and is a wonderful place to run with some fabulous senery.Navigation was confusing at times and I missed a couple of markers which meant I went on a few detours but I soon got back on the route.The marshals were all very friendly and supportive at the aid stations and helped me fill my bottles and get food and treats for me which was a great help.At the finish I was welcomed by some big smiles and congratulations from the event crew and of course at very nice medal, long sleeve technical top and a cup of tea and cake.I ran Day 1 of 2 days but if you are looking to challenge yourself then this is an event for you.

Did the Ultramarathon in 2018

A much more challenging race than you'd think. It's hilly and very muddy. The first half of day one is quick. This is followed by miles of thick sticky mud which slows you down and saps your energy. This makes for an interesting day two. The checkpoints were super smooth, friendly and helpful and the hospitality over night made another day of running seem possible. Fantastic organisation by XNRG, inspiring speakers during the evening and great a course. Would definitely recommend it.

Did the Ultramarathon in 2018

I absolutely loved this race - even though it was possibly my slowest ever time by about two hours! Really tough conditions but so satisfying to finish, a great challenge. And as usual we were well looked after by the Extreme Energy team, both during the race and overnight. If you're considering trying a multi-day race definitely go for one of theirs, you'll get incredible support and there are no cut off times so no panic about pacing. Cannot wait for the next one!!

Did the Ultramarathon in 2018

XNRG are a great organisation. I have done a few of their races and always feel like I am coming back to a part of their family almost. Great value for money, great crew who are amazing from initial enquiries, registration, at the checkpoints and even at stupid O'clock in the morning when they have had zero sleep. A great event, and a great team of people, keep on doing what you are doing Neil, Brian and crew! Regards, Paul from Jersey
Events in the United Kingdom
Running Events in the United Kingdom