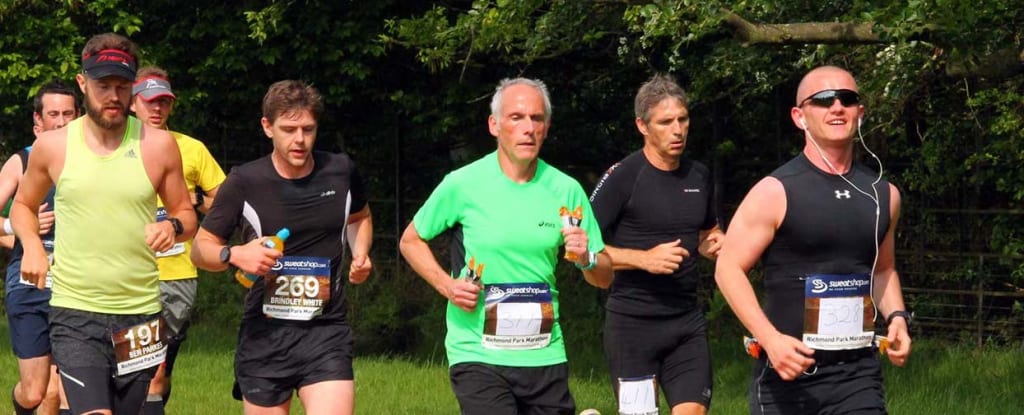 Richmond Park Half Marathon
Run 13.1mi
A wonderful half marathon distance trail run held entirely within Richmond Park. This is perfect training half for those challenging for a spring marathon. Our races are geared to getting people to have a fantastic challenging and enjoyable running experience finished off with a brilliant medal and goody bag most big races would be proud of. It is because we both runners we aim to provide runners with a special goody bag at all our races - these will have race spec tee shirts, mugs, pens and magazines - plus additional food and snacks at the end of all the races.
Review summary
Course

Organisation

Atmosphere
"Great to be able to do a half marathon in Richmond Park and to do so without..."
"Overall, this was great event. The atmosphere was there from the beginning,..."
"Well organised and friendly race. Richmond Park is a fantastic, if hilly, place..."
How to enter the Richmond Park Half Marathon
Richmond Park Half Marathon weather forecast
Light rain in the morning and overnight.
High chance of rain
Moderate breeze possible, up to 14mph
Meet the organizer
We provide runners with the ability to run marathons in beautiful and safe surroundings supported by enthusiastic volunteers who ensure all runners receive much needed encouragement as they navigate the ups and downs of the various courses. We welcome runners of all abilities. We are extremely excited with our NEW half marathon in Richmond Park, which will appeal to all runners who are either training for London Marathon, or just simply want to take part in a well-organised event.
Richmond Park Half Marathon reviews (12)
Course

Organisation

Atmosphere
Did the Half Marathon in 2019

Great to be able to do a half marathon in Richmond Park and to do so without looping at all. Great experience and well worth the entry fee.

Did the Half Marathon in 2019

Overall, this was great event. The atmosphere was there from the beginning, with all the marshals and officials being really friendly and helpful. The route was well marked and there was plenty people along the way to guide you. There is a couple of reasons I would say the organisation needs a little work - although neither of these things would be hard to solve! Firstly there was only three toilets at the start line, and due to the high number of runners, the race had to be delayed 10 minutes to give people enough time to use the facilities before the start. A few more toilets there would have made everyone's experience just a little more enjoyable. The second point is, they did the presentations for 1st, 2nd, and 3rd male/female at the start finish line - so they were directly in front of people still finishing. This led to a big of congestion on the finish line, which wasn't really fair for people who just crossing. Moving the presentation to one side slightly would have made a huge difference! However both easy things to solve, and didn't have a negative impact on the overall day. If you're looking for a relatively small, and lower key half marathon then this would be perfect!

Did the Half Marathon in 2019

Well organised and friendly race. Richmond Park is a fantastic, if hilly, place to run. Plenty to recommend.

Did the Half Marathon in 2019

Nice route, full of hills and a mixture of running surfaces. Well organised but the route could have had better signage, some runners took the wrong path at some points

Did the Half Marathon in 2019

The Richmond Park Half Marathon was really enjoyable (not according to my legs), and I would recommend it. Good atmosphere and friendly event staff. Despite the activity in the park, on a beautiful Sunday morning, I only nearly got lost once but thankfully I was quickly directed towards the next marker by one of the volunteers :) Top marks

Did the Half Marathon in 2018

Awesome course, well organised, friendly crowdrunners, organisers and spectators!

Did the Half Marathon in 2018

Did the Half Marathon in 2018

Did the Half Marathon in 2018

NO though I have done most of the other previous events so know how the system works

Did the Half Marathon in 2018
Events in the United Kingdom
Running Events in the United Kingdom