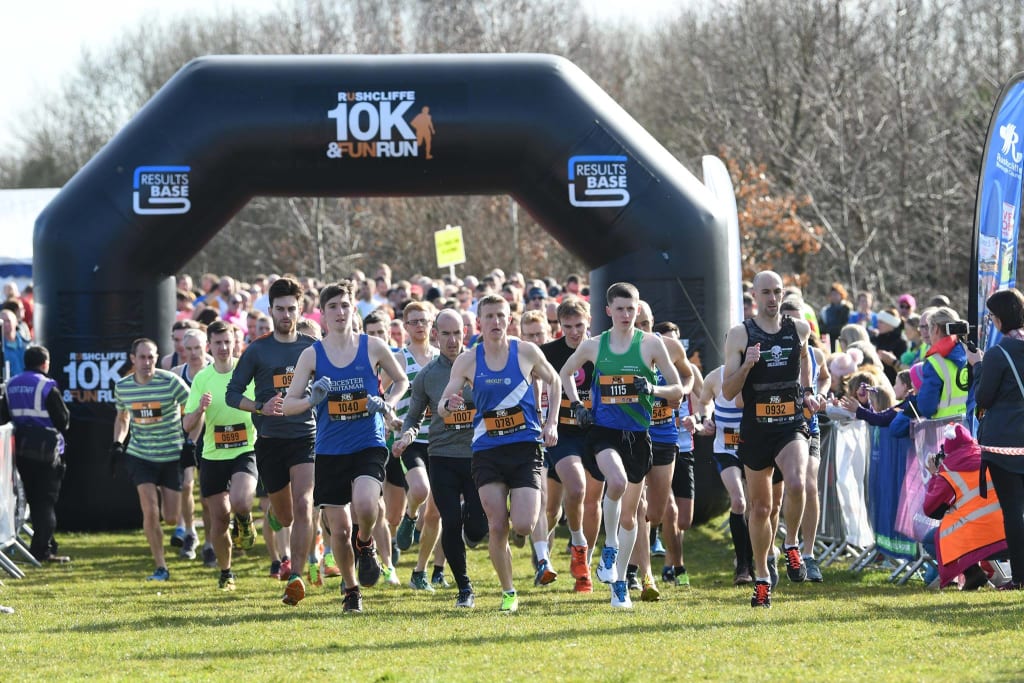 Rushcliffe 10K and Fun Run
Review summary
Course

Organisation

Atmosphere
"This was my first official 10K run, and only the third time Id ran a 10K.I love..."
"Really fun and friendly race. Its a single lap which is always appreciated!..."
"I have enjoyed to running my life! I am usually go to Parkrun, 10k runs..."
How to enter the Rushcliffe 10K and Fun Run
Do it for a good cause. Make those miles count and register for a charity place.
Standard Entries

Charity Entries
Rushcliffe 10K and Fun Run weather forecast
Moderate breeze possible, up to 11mph
Rushcliffe 10K and Fun Run reviews (6)
Course

Organisation

Atmosphere
This was my first official 10K run, and only the third time Id ran a 10K.I love Rushcliffe Park, even on a rainy day its beautiful so I was pleased to be doing the run here.The warm up was good, and the atmosphere friendly.But as soon as we started it was clear that the path in many areas was way too narrow and it was tricky to break away from the pack, as the event was so busy.I didnt see many of the markers which made it tough to know when to increase pace towards the end.The course on my Strava measured under 6.1miles which I was gutted about and there was no snack at the end.Also, I wish there was a decent food stall at the end- burger and chips doesnt cut it

Really fun and friendly race. Its a single lap which is always appreciated! There were a couple of pinch points with runners going on both directions but other then that it was a very good route. Well supported, the marshalls were great and loved the announcer at the end too.

I have enjoyed to running my life! I am usually go to Parkrun, 10k runs including Rushcliffe 10k, Run for all 10k, Half Marathons, Marathon and also I trained for running! But Im Deaf and my second English language and my Sign Language is my first language!

Great race to do for beginners and intermediate runners. The course is flat but slightly undulating, this is good as running completely flat means your legs just get bored, but a slight up and down means you can shake them out a little. Course is varied and interesting. The length of the course was slightly less than 10k, I believe this is because if you don't stick exactly to the measured route you will be under by a few metres, there are places on the route where you can run on the path as a pose to the road section and as it's a circle you will run a shorter distance, add in a couple of corners that the masses of runners can step around off the track then you will loose a few metres here and there, so run through the finish plus 100m to make sure you get the 10k logged on Strava. I ran on and got 10k, my wife stopped here watch on the line and was short. Fantastic race, very popular and organised well. I will be there next year.

Excellent Marshalling, course was good, but bottle necked in places, not sure if thats down to too many people or the fact that there were a lot of steady runners towards to front of the start area making it difficult to get round them? All that said, I would enter it again

The beginning of the race was very crowded and difficult to get started.The queues for bag drop were long and the delay to start the 10km and 5km races was a bit off putting, especially as it was raining.I enjoyed the courses and liked that it was 1 loop this year rather than 2 laps
Events in the United Kingdom
Running Events in the United Kingdom