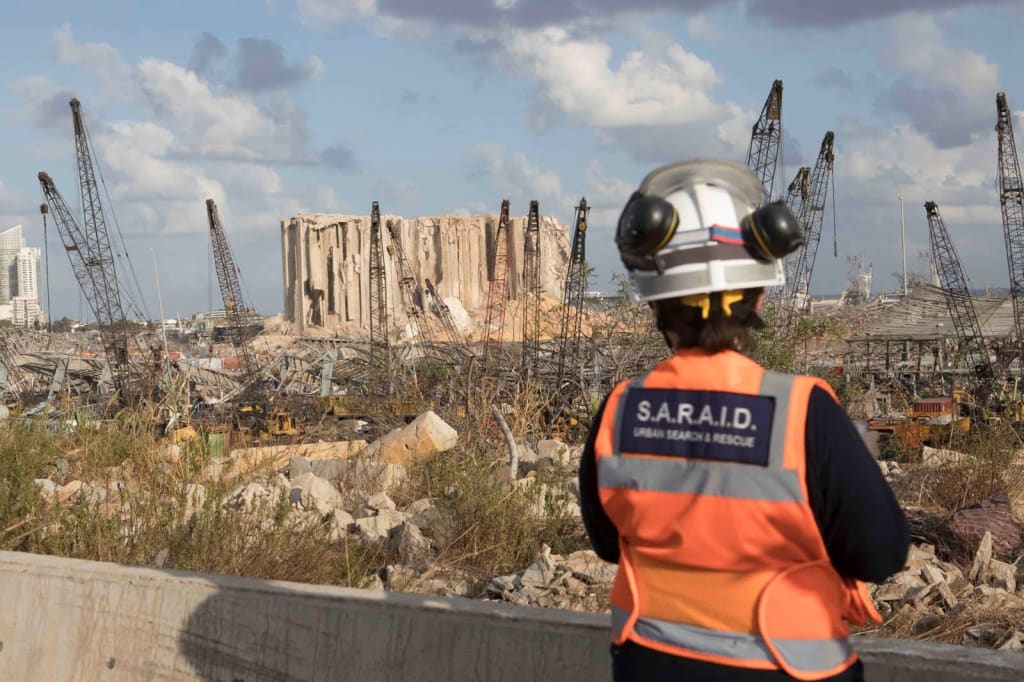 VIRTUAL EVENT
SARAID10K : The Search & Rescue Run 
Run 10km
8 days left to submit results
The event has started!
Mon 10th Aug - Wed 30th Sep 2020
Results may be submitted anytime through Wed 30th Sep 2020 5:59 AM
Submit Result
SARAID have just returned from a deployment to Beirut in response to the tragic explosion on 4th August that devastated the city. Our team of trained search and rescue volunteers deployed to assist in the immediate humanitarian response and led the damage assessment coordination phase. This work started the process of helping the 300,000 people displaced from their homes and livelihoods on the road to rebuilding their lives again.
SARAID is a British charity dedicated to providing immediate humanitarian relief and specialist urban search and rescue support in response to large scale disasters all around the world. We are staffed entirely by volunteers, who come from all walks of life, but are united in their desire to help those in need. Right now, we need your help, as a charity we rely solely on donations and receive no government support. Please join us for the inaugural SARAID 10K Search and Rescue Run.

Run, jog, walk or even crawl your way to 10km this August, complete the distance in one go or break it up as you feel. But save your efforts on your favourite app and upload the results to our virtual finish line in order to earn you SARAID branded finishers t-shirt.

NB. International entries will not come with a t-shirt

The finish line
Let's welcome our most recent participants completing their race:
00:54:00 ·
10km Search and Rescue Run
Oliver Martin
00:59:05
Clare Morton
02:57:59
Kerry Hughes
02:36:04
Jet Hughes-Baldwin
02:36:03
PARTICIPANT

DISTANCE

TIME

SUBMITTED

10km Search and Rescue Run

10km Search and Rescue Run

M 25 - 29

00:54:00

a month ago

10km Search and Rescue Run

10km Search and Rescue Run

M 25 - 29

00:59:05

a month ago

10km Search and Rescue Run

10km Search and Rescue Run

M 40 - 44

00:34:15

a month ago

Tanya Haeffele

Pyramid Performance

10km Search and Rescue Run

10km Search and Rescue Run

F 40 - 44

Pyramid Performance

00:56:55

a month ago

10km Search and Rescue Run

10km Search and Rescue Run

M 30 - 34

00:41:46

a month ago
Explore the Finish line
How to enter the SARAID10K : The Search & Rescue Run 
Once you book the event, you'll need to upload your result during the event time window.
10km Search and Rescue Run
How to complete a Virtual Event
Participating in a virtual event means you can complete the distance at any time within the event timeframe in a location of your choice.
Here's what you need to do:
Preparing your virtual event
Secure your virtual spot in the event by booking your ticket

Plan your ideal route

Make sure the route is at least the event length and as traffic free as possible

Ensure your phone and/or GPS watch is fully charged
During your event
Record your activity on a tracker and take a screenshot

This can be either a phone or a GPS watch.

Complete your activity in the designated event completion timeframe

Make sure you go the event distance

But don't worry if you go a bit further, we'll calculate your finish time.

Take a Finisher's Photo to share with your fellow finishers
Submitting your result
Head back to this event page to submit your results

Make sure to submit your results within the event completion timeframe

Upload a screenshot of your activity tracker or GPS watch to verify your results

You can still participate and submit results without this, but we won't be able to verify your results.

Provide your finish time and overall distance

If you go further than the race distance, we'll adjust your time down to the correct distance based on your pace.

Share your Finisher's Photo on the Finish Line gallery

Get featured on our Finish Line where you can celebrate your achievement and inspire others to get active.
Frequently asked questions
How do I record my activity?
Are there time cutoffs for Virtual Events?
Can I go further than the race distance?
Can I do my distance over a few days and break it up and add up my total time to submit?
If offered, when will the post-race goodies be mailed?
Can I take part at any time of day?
Have a question about this event? Ask our team member below and we'll get back to you. In the meantime, visit our
Help Center
Submit
For more advice about virtual events, see our Virtual Event Handbook here.