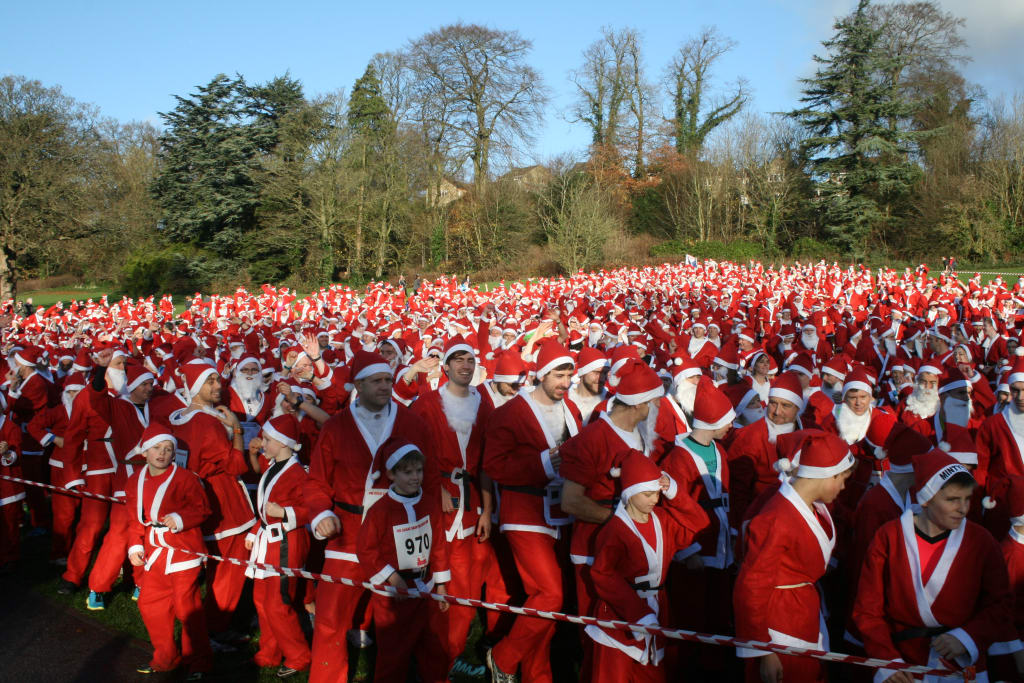 The Great Skipton Santa Fun Run
Run 5km
The run takes place with the help of officers from Skipton Town Council and from Craven District Council and in addition to many of the runners own charities, the main beneficiaries this year will be Sue Ryder Manorlands, Yorkshire Cancer Research and Rotarys own charities.
Many local businesses, organisations and schools use the event to raise money for their own charities.
We couldnt stage the event without the generosity of local businesses who provide financial support in order to ensure all proceeds from entrants go to their nominated charities 100% by ensuring all costs are pre-covered. Please take a look at those companies here and support them when you can.
Feel free to come and join us for good fun and a good cause by entering today!
Dont forget FREE Santa Suit included with entry!
Review summary
Course

Organisation

Atmosphere
"My first timefor me but did it with the gang from our running club Trawden AC,..."
"The suit was lacking. I tore it putting it on. I do understand that it's cheep..."
"Great run but if you want to run youll need to get to the very front of the..."
How to enter the The Great Skipton Santa Fun Run
The Great Skipton Santa Fun Run route
One lap clockwise circular 5km route around the canal and streets of Skipton. All key points will be marshalled.

Questions & answers
Hi, along with my friend Kath I joined the Santa run (entry fees have cleared my account) last weekend but to date we 've not had confirmation emails. Be grateful for your help.

Hi there. Thanks for getting in touch. Please can you contact our customer support team and they help you out as soon as possible -

[email protected]

! Many thanks :)
The Great Skipton Santa Fun Run weather forecast
Foggy overnight.
High chance of rain
Meet the organizer
At a meeting on 25.06.19 Skipton Craven Rotary Club elected Peter Ripley their President for the next 12 months. While receiving his chain of office from outgoing President John Exley, Peter said he was delighted to be given this honour and he would follow previous Presidents by upholding the aims of Rotary. He said he would do his utmost to ensure the Club continued to have Fun, Food and Fellowship while pursuing its goals of raising money for local charities. In recognising the aging of members he said the Club was determined to grow, particularly to cope with the ever increasing demands of the Club's famous Christmas activities. As the numbers of competitors in the Santa Fun Run multiply and this year with a disability event more marshalls were needed as well as for the very popular Santa Sleigh Runs. Peter moved to Skipton from Haworth 26 years ago shortly after his business, ACWA, relocated from Bradford where Peter was born and educated. Working in the water industry all his life Peter got many opportunities to travel, but mostly in the arid Middle East.
The Great Skipton Santa Fun Run reviews (5)
Course

Organisation

Atmosphere
My first timefor me but did it with the gang from our running club Trawden AC, many of them had done it before.. great event, brilliant atmosphere, Skipton was buzzing, it was fantastic. Many of them called it the best of the year.

The suit was lacking. I tore it putting it on. I do understand that it's cheep I just wasn't expecting that cheep. The support was great on the course the bands playing on the way round were amazing.The finish line was a mess trying to get through was hard it was a bit of a scrum.

Great run but if you want to run youll need to get to the very front of the start pens. The course has some narrow sections that are fine if youre having a jog but faster runners will want to make sure they start first. Overall it was a really fun race. Thanks to the marshalls and crew for making it so!

A fantastic event stepped up another level this year due to moving to the High Street and having all the stalks and activities going on. Definitely recommended to anyone after some fun be it taking part or just spectating and wanting to enjoy a festive day out. Brilliant!

Brilliant fun run! Good parking facilities. Dont expect a PB as it is narrow in places and 1750 runners including children - but do expect plenty of fun and giggles at the mass of Santas
Events in the United Kingdom
Running Events in the United Kingdom