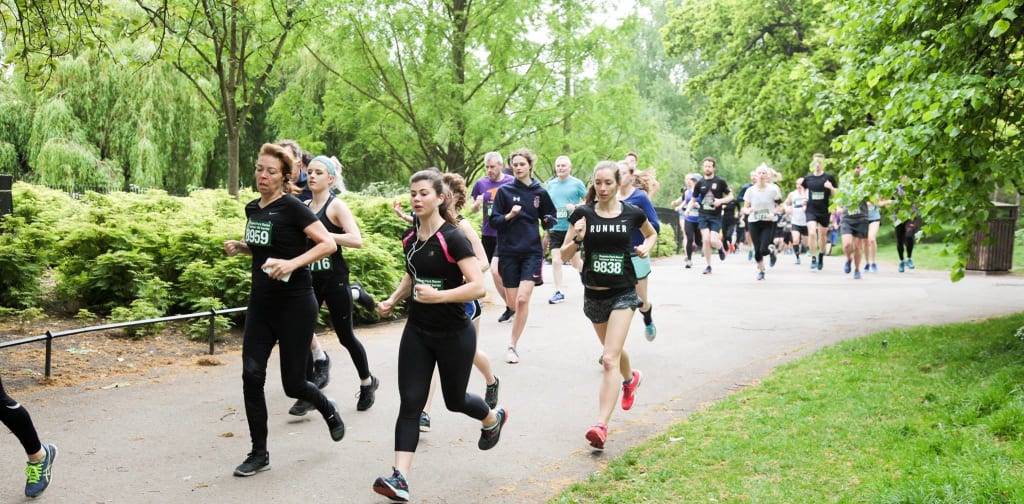 The Regent's Park 10K
Why book with us?
Official booking partner

Best price guarantee

Free injury protection
Have a question? See our Help Center
We're #1 for customer satisfaction
Join us for this return of the The Regent's Park 10K on an accurately measured route around the scenic surroundings of London's Regent's Park. A run or a race – suitable for experienced runners and first-timers alike, using roads and footpaths.
Review summary
Course

Organisation

Atmosphere
"Race started late so waiting around in the cold wasn't ideal but the volunteers..."
"I have run this course a few times so knew what to expect. Was pleased with my..."
"The race was easy to get to and registration was quick, if you turned up on..."
How to enter the The Regent's Park 10K
The Regent's Park 10K routes
The Regent's Park 10K course is a three lap route covering the tarmac paths within the boundaries of Regent's Park. The course has been officially measured and carries a certificate of course accuracy (certificate number: 11/174). The route will be clearly marked using large route arrows and directional cones, as well as being marshalled throughout. We would ask you to remember that we do not have exclusive use of the park and you should be aware that other park users will be on the course.

The route is a flat course with only one gentle incline to contend with and covers the tarmac paths surrounding the park. You will pass around various sections of the park past the boating lake and down the famous Regent's Park Broad Walk. You will also pass the Money Fountain and alongside London Zoo.

Frequently Asked Questions
What facilities are available?
Toilets, refreshments and baggage drop off facilities are available for this race
Where can I find results for the Regent's Park 10K?
Results can be found on www.nice-work.org.uk post race. If you signed up using a valid email address, you will also receive results via email.
At what time does the Regent's Park 10K start?
The race starts at 9.15am so please try to arrive in advance to ensure you're at set to go.
When will I receive my race pack?
You should receive your race pack 10 days before the event. If your race pack does not arrive before race day then please check in at the registration desk on the day and they will issue you a pack.
Have a question? Get answers from our team.
Is your question about booking your place? See our Help Center
The Regent's Park 10K weather forecast
Rain in the morning and overnight.
70% chance of rain
Light breeze possible, up to 6mph
Meet the organizer
#6
Nice Work are ranked #6 in the UK out of 342 organizers
We are a specialist race management company, organising more than 140 races across the UK each year. We offer everything from small community events to larger races organised on behalf of running clubs, charities, local authorities and private companies.
Other events from this organizer
The Regent's Park 10K reviews (21)
Course

Organisation

Atmosphere
I have run this course a few times so knew what to expect. Was pleased with my time and really liked the medal.

The race was easy to get to and registration was quick, if you turned up on time. The start was quick and the course was clear all way round and relatively flat. Directions were given clearly and the route was easy to follow; great for a fast time. Overall a good well organised race, will definately be back!

Race started late so waiting around in the cold wasn't ideal but the volunteers always do a great job and normally a nice atmosphere on race day

Badly organised. 25 min late start. Enjoyed the course due to the backdrop and the fact its regents park. Paths a little tight when things initially got going as they are narrow in places. Start finish was also off the path so was ridiculously muddy. Was particularly dicey when finishing. Marshals were friendly and gave plenty of encouragement and were helpful. Probably would of been better to have the whole thing centred on the hub to give a sense of centre/atmosphere. I would recommend it. 😊

Where do I start. More of a disorganised tough mudder event. Told to arrive 30 mins early... to start at the original time(classic. Comedy gold) ... grass start line with no flag or indication... just someone waving their hands around saying 'woohoo start is here' ... long queue to get bibs meant we didn't start at the earlier time ... very little volunteers on course or signage to indicate where you were going...no announcements, just a man standing on a bench shouting ... and a bagdrop that was unsupervised on a plastic sheet that anyone in the park could access.

To get to the boggy and grass finish line you had to cross a pathway which was full of pedestrians and dogs. Defo not a PB event. Lots of people (and kiddies!) fell on their bottom it was so muddy and wet!

Did this event with The Race Organiser and that was much better. Organisation was perfect and I defo missed the flapjack!

'Goodies' after the event included a cup of water and a Jaffa cake ... very disappointed ... didn't realise I paid for a ration pack! ...perhaps not so 'Nice Work' after all.

To top it off. The email we received to notify us of the change in times mentioned there would be a minutes silence for Remembrance Day before the race ... did this happen? Course not!

What a shambles of a Sunday. Would recommend this event when organised by The Race Organiser.

Where do I start. More of a disorganised tough mudder event. Told to arrive 30 mins early... to start at the original time(classic. Comedy gold) ... grass start line with no flag or indication... just someone waving their hands around saying 'woohoo start is here' ... long queue to get bibs meant we didn't start at the earlier time ... very little volunteers on course or signage to indicate where you were going...no announcements, just a man standing on a bench shouting ... and a bagdrop that was unsupervised on a plastic sheet that anyone in the park could access.

To get to the boggy and grass finish line you had to cross a pathway which was full of pedestrians and dogs. Defo not a PB event. Lots of people (and kiddies!) fell on their bottom it was so muddy and wet!

Did this event with The Race Organiser and that was much better. Organisation was perfect and I defo missed the flapjack!

'Goodies' after the event included a cup of water and a Jaffa cake ... very disappointed ... didn't realise I paid for a ration pack! ...perhaps not so 'Nice Work' after all.

To top it off. The email we received to notify us of the change in times mentioned there would be a minutes silence for Remembrance Day before the race ... did this happen? Course not!

What a shambles of a Sunday. Would recommend this event when organised by The Race Organiser.

Where do I start. More of a disorganised tough mudder event. Told to arrive 30 mins early... to start at the original time(classic. Comedy gold) ... grass start line with no flag or indication... just someone waving their hands around saying 'woohoo start is here' ... long queue to get bibs meant we didn't start at the earlier time ... very little volunteers on course or signage to indicate where you were going...no announcements, just a man standing on a bench shouting ... and a bagdrop that was unsupervised on a plastic sheet that anyone in the park could access.

To get to the boggy and grass finish line you had to cross a pathway which was full of pedestrians and dogs. Defo not a PB event. Lots of people (and kiddies!) fell on their bottom it was so muddy and wet!

Did this event with The Race Organiser and that was much better. Organisation was perfect and I defo missed the flapjack!

'Goodies' after the event included a cup of water and a Jaffa cake ... very disappointed ... didn't realise I paid for a ration pack! ...perhaps not so 'Nice Work' after all.

To top it off. The email we received to notify us of the change in times mentioned there would be a minutes silence for Remembrance Day before the race ... did this happen? Course not!

What a shambles of a Sunday. Would recommend this event when organised by The Race Organiser.

Lovely views and location but terrible organisation. Queue to get numbers was absolutely ridiculous and started 27 mins late which isn't ideal.

Really good course, got a pb so always good! For the cost of the event I thought it was very good value for money. There were slight issues like it started a little bit late, and there were loads of toliets but as it didn't cost much to enter you really cant complain as they were only mild inconviences. Also the medal is really good!

Email in the week race saying that it will be a 9:00 start and then starting at 9:20.
It's not that flat, as half of the lap is always going up (small %)
It is expensive as how then is the whole event
Events in the United Kingdom
Running Events in the United Kingdom