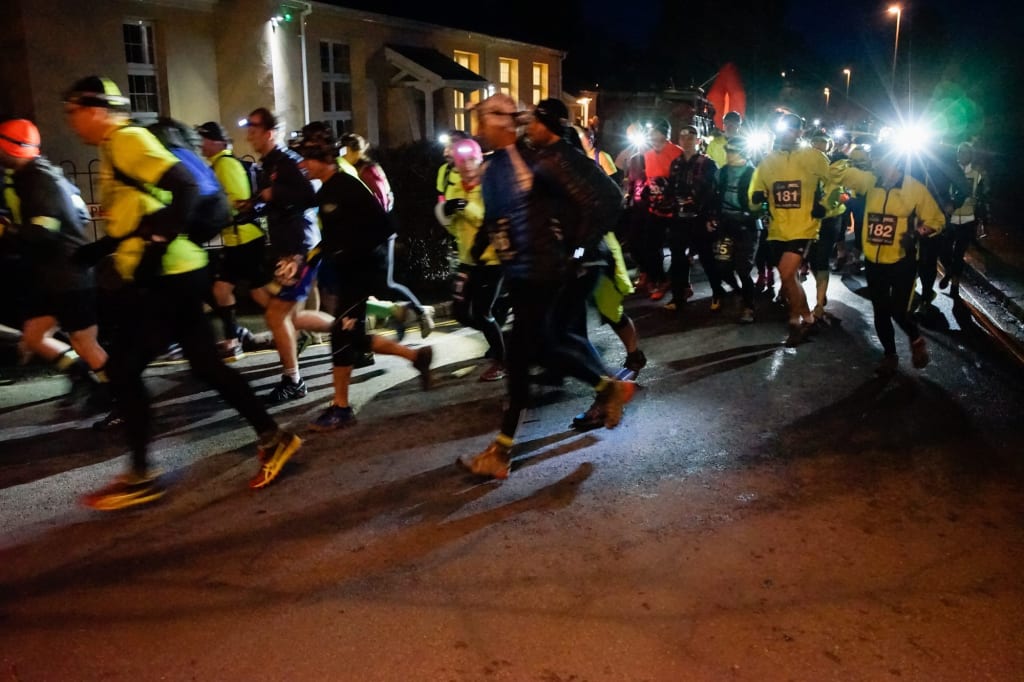 Suggest an edit
See any improvements? Be the first to make this page better.
10 MILE WILD NIGHT RUN RACE

The South West's toughest Night Race returns for a 6th year! 10 tough, muddy, rocky, boggy miles on Dartmoor.
The first five miles is mainly uphill following the river to Shipley Bridge with one or two brief descents to give you some respite. There is then a tarmac section (though still slightly uphill) before you get out onto Dartmoor. Blizzards, nearly waist deep bogs – you'll find them all in this section of the course. The second half is mainly downhill but with a couple of short sharp climbs to keep you on your toes including the notorious and very muddy Brent Hill. This is a tough race and not for the faint-hearted. Matching your half marathon time on a flat track is not easy!
5 MILE MILD NIGHT RUN

Still wild but shorter. This follows the stunning river path from South Brent to Shipley Bridge, mainly uphill with a couple of short downs, then loops round to descend a steep rocky track (care needed) before rejoining the last section of the river path. Still challenging but aimed at less experienced runners.
1 KM AND 2KM KIDS RACES

We have now added kids races to the Wild Night Run for children aged 2-11.
Review summary
Course

Organisation

Atmosphere
"First time running a wild night run got to say bloody enjoyed it...was a hard..."
"I absolutely loved this event. It's the first proper event I've taken part in..."
"This is a 10 mile night run over the challenging terrain and weather of..."
How to enter the The Wild Night Run
The Wild Night Run weather forecast
Moderate breeze possible, up to 14mph
Meet the organiser
We recognise that many of our runners may be new to self navigation events and want to become more confident runners who can dispense with a guide.So we are also offering NNAS navigation courses (for runners or walkers). The spirit of community and camaraderie of the group night runs, has cemented many friendships, since they began. Wild Running Camps aims to replicate the camaraderie of the Thursday night runs. Both the Beginner's Fell Camps for women in the Lake District and our Wild Running Camp on Dartmoor, involve sharing communal meals in a cosy farmhouse, while our bespoke Scotland Camps can involve sharing a hostel, cottage or a hotel and listening to talks about the local geology and even whisky tasting, upon request. The chance to run on a guided route over a munro is central but by no means the only part of the experience. Last year, our guides learnt a lot about hygge when a large Danish group signed up for our Scotland camp. They were excellent company. Without the group, we are just loan wolfs bound for extinction. The end goal is not to chip away at your 10k time but to enjoy the process of running and hopefully to avoid injuries, in as much as this is possible.
Loading
The Wild Night Run reviews (21)
Course

Organisation

Atmosphere
First time running a wild night run got to say bloody enjoyed it...was a hard hilly boggy run ran in hard conditions (wind ran )but that just made it all the better..race was well organised from Kit check to markers and marshalls out on course..running Dartmoor in the dark was amazing the bogs ..wow..found myself laughing as it was so boggy(gotta love mud) ran with a friend and we both came away happy if not a little tired...but damn it was worth it...just a great experience... Great job wild night running

I absolutely loved this event. It's the first proper event I've taken part in after 4 months of catching the running bug. It was wet, muddy, hard work and definitely wild. Highly recommended for those looking for something a little different to your average run.

This is a 10 mile night run over the challenging terrain and weather of Dartmoor, there are plenty of hills and lots of mud and it will definitely test you both technically and physically (never under estimate the moor).I have done this race 3 times and thoroughly enjoy it (even the pain), the course is well marked although some of the markers may have been knocked over by the local ponies or sheep (or the wind if its windy) but this is unavoidable on Dartmoor.The event is well marshalled with enthusiastic volunteers and you are well looked after by the organisers, you also have the chance of purchasing very good hot food at the end if you so wish but the normal cake, water and snacks are provided at the finish line.Overall a very good event I would recommend any event organized by The Wild Running Team.

This must be my 4th or 5th year and it's my favourite night race these guys do. The course is amazing and the terrain is varied and technical in places. But that should never put off beginners as speed is not relevant, it's about experiencing the course with an aim to just complete. Every year throws up different challenges depending on the weather and this year was no exception. Very little wind which was great but the rain turned the Moors into a muddy boggy fun park. :) 10/10

Very laid back atmosphere and good fun. Unique type of event with as much mud, water and hills as one could wish fr! I can imaginw that it is not easy to sign the course up on Dartmoor-- while the flashing red lights were really good I thought there were not enough of them and the poles with the blue tape on them are really not really visible until the very last moment. But I definitely had a lot of fun and very tired legs at the end!

This was my first time running this event and it was awesome. Very well organised and the pre-event information was also very good. I ran the 5 miler and I so wished I ran the 10. I'll be running the 10 next year for sure. :) As an additional bonus, the food at the end was ace! Thanks guys!!

What a cracking run! This is an event with bags of personality; great route, very friendly, well organised and to cap it all the chicken, apricot & squash pie I had at the finish was to die for!

I thoroughly enjoyed the race, course and trail conditions were what I entered for, even the treacherous downhill track which was both fun and challenging. If I had to pick a fault I would move the start back in line with the finish so you get longer to get through some of the slower athletes before the tight corner. This is the 1st time I have done the 5 mile, I normally enter the 10 mile but injury forced be into the shorter race but I was surprised how good it was.

As the WildNightRun series flagship race and billed as the toughest night run in the soutwest, the event was epic!!! The first 5 miles uphill, running into strong winds, rain and racing through thigh-deep bogs, oh and a little fog to hide the waymarkers then 5 miles downhill striding over tussocky marsh, harsh granite trails and rocky riverbeds the race had something for everyone including an extra 1.2 miles for those that wanted it to go on a little further, making the trail 11.2 in total. One tough, great route and so well organised by team - can't wait for next year!

A really different running experience - taking a 5 mile run to a different level. Running in a group with a trail of headtorches , through beautiful parts of the local landscapes in the darkness ... amazing
Something missing?
We're rebuilding our event pages and would love your input. Please suggest anything you would like to see on this page.
Events in the United Kingdom
Running Events in the United Kingdom