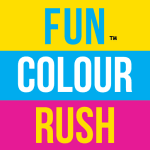 Engaged Community Events
We organise the Fun Colour Rush across the UK. Bringing the colour, music, and community spirit to aweseome towns and cities! Starting from the warm up in white t-shirt and very shortly getting covered in the rainbows of colour, whislt dancing to music and enjoying summer time! Life can sometime be a little dull, so for one day, we want to show that life can be fun and full of colour, and not just for runners, our events are for people of all ages and abilities. We want people to take our course however they like it. 80% of our participants walk. And we want to show people that fitness can be a great deal of fun.
Can't find an event?
Let us know the name and we'll add it as fast as possible. We're talking Usain Bolt fast.