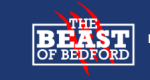 The Beast of Bedford
The Beast of Bedford Triathlon & Half Marathon will have its inaugural events this summer at Box End Park. These events are run & delivered by Keith Holland who is a local swimmer and triathlete, and with the support from local clubs, explorer groups and the Box End venue, this event is going to be a great opportunity for newbies and experienced participants to enjoy together.
Can't find an event?
Let us know the name and we'll add it as fast as possible. We're talking Usain Bolt fast.