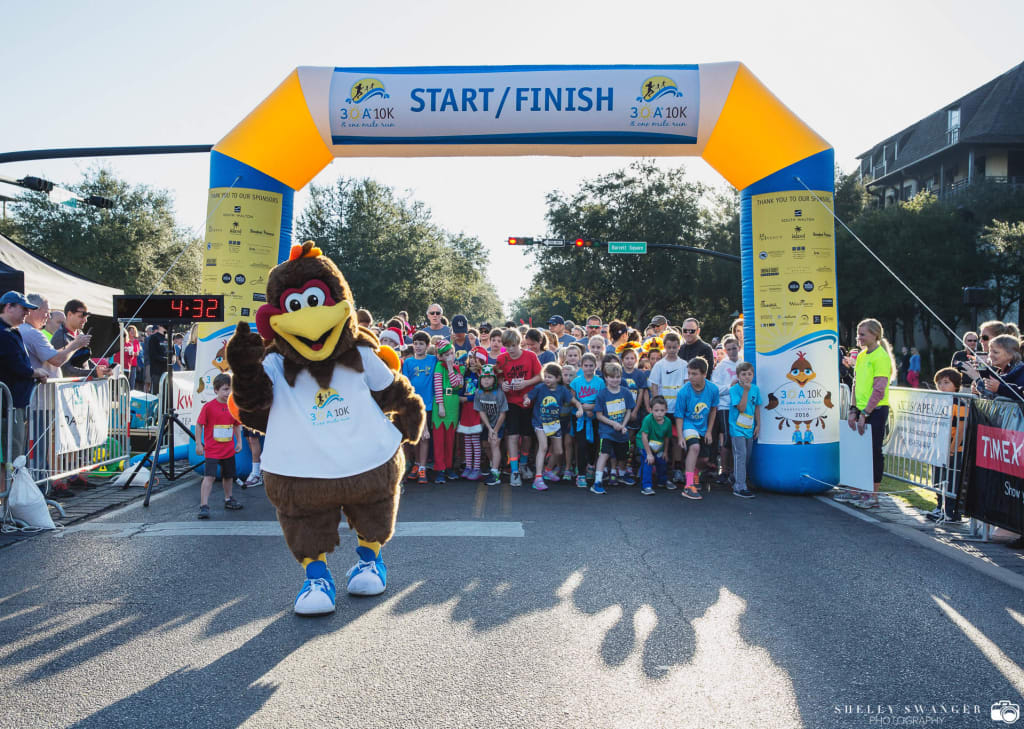 107th Thanksgiving Day Race
The race is super fun which includes 10k individual run, 10k team run as well as 3/8 miles kids Run.
How to enter the 107th Thanksgiving Day Race
Event Details
1. How long is a 10K?
A 10K run is 10 kilometers long, which is the equivalent of 6.2 miles. It's double the distance of a 5K, which is another popular race distance. The TDR is a 10K run and walk.
2. How do I get to the start?
Do a an internet search for Paul Brown Stadium, 5 Paul Brown Stadium Way and you are there!
3. What time should I arrive for the race?
The race starts at 9:00 A.M. I always like to arrive about an hour before start time. This gives me plenty of time to park the car. The free lots at the stadium fill up very quickly. If I haven't registered or picked up my stuff, there's still plenty of time to go to Paul Brown Stadium and pick up my number and t-shirt at Gate C. Then I talk to my friends, check out the start, warm-up and enjoy the morning…
4. Where do I park?
The race start is on Second Street, so you can park practically anywhere downtown. The area has grown exponentially in 105 years, so the parking options are endless. If you're in a rush to leave after the race, I would park near Fountain Square.! Information is located here
5. Where should I put my clothes before the race?
Because of the terrible circumstances at the Boston Marathon, we are not allowed to have ANY unattended bags. Please secure them in your car. The parking lot is actually closer to the starting line than Paul Brown Stadium! If it's cold, wear something that you want to give away to Goodwill. This charity will be collecting clothes and coats.
6. How will I be timed?
Your timing chip is on your bib/number. It is disposable so you don't have to worry about getting it to a volunteer at the finish. You also don't have to worry about where you stand on the starting line because the electronic timers will not start until YOU cross the starting mat and YOU cross the finish mat.
7. Can I walk the race?
Absolutely! Over 30% of the participants are walkers. The walkers will take off right after the runners—approximately 5 minutes. You will be directed to the walkers starting line!
8. Where does the race course start finish and travel?New Course this year!
Here's a course map.
Here's an elevation map.
Great features:
No turns in first mile
Run past Fountain Square
See the revitalized and BEAUTIFUL Over the Rhine
Capture the old course in Newport and Covington
Clear shot to the finish line on Second Street. No looping back from Third to Second. Yippee.
Downhill finish from the Clay Wade Bailey Bridge. Make a right on Second Street and voila-You are there. Cue the finish line pose.
9. What if I don't know the course?
It is on the back of your race number. Oh, don't worry about getting lost. There will be over 17,000 people going in the same direction.
10. I can't run. Can someone else wear my number?
No. Thanksgiving Day 10k numbers are not like a ticket to a show or concert. We need to know that the person with the number is the same person whose name and information is in our database. This is a matter of safety. Also, running with another person's number ruins the race results, since the person using the number might be a different gender and age from the person who originally entered.
11. Are strollers allowed?
Yes, the race encourages families to do the event together. So bring the whole gang. We would really appreciate if the strollers start in the wayyyy back of the starting line with the walkers. Please don't bring the family dog. They are not allowed (see reasons below).
12. What is not allowed on the race course?
Bicycles
Wagons
Dogs
Rollerblades
Unregistered runners
Skateboards
Hand cycles
13. Is there anything I can't do?
In order to keep everyone on their feet, we don't allow pets, inline skates, etc., and no costumes that extend beyond the body.
There are no refunds, exchanges or transfers on registration fees.
14. If I'm a walker where should I stand on the starting line?
There will be a designated area in back of the runners. Remember, we have tag (chip) timing so your official time will not start until you cross the starting line. Please, please place yourself in the designated area so aggressive runners don't trample you.
15. If I run a 11-minute pace, where should I stand on the starting line?
There will be signs that indicate various paces. Please place yourself in the proper area. Now I'm all for positive thinking, but let's be realistic here. Also remember that because of the chip timing, your official time will not start until you cross the starting line. So relax. You might run a better race if you start in the right location!
16. How can I get involved without running?
We need thousands of volunteers to make the race happen. Whether you volunteer on your own, or as part of a non-profit group you will walk away with some great keepsakes and the glory of being a race day hero.
17. What if I'm late?
What happened? Don't be late! Do you need a wake-up call in the morning or something? You can rush to the start and run the race.
18. Will the race be cancelled if the weather is bad?
The Thanksgiving Day 10k has been held in all kinds of weather, so dress accordingly. Average temperature at the start is approximately 50 degrees, but it has occasionally been in the high 70s. We have also started with snow on the streets.
19. What if this is my first race?
Yahoo for you! This is great news. Simply pin that race number on the front of your shirt. Tie your chip on the shoe. Place yourself on the starting line at the pace- per- mile- sign that you will run, and go, go, go. Don't forget to breathe!
20. Can I register for someone else at Jack Rabbit?
Yes, you can register for as many people as you would like. Be sure you have accurate information—especially age!
21. Can I pick up other people's race packets at Jack Rabbit?
Yes. Be sure you tell them!
22. What if I ordered the wrong size shirt?
You can exchange your shirt at Jack Rabbit in O'Bryonville during packet pick-up before the race.
23. Is there water?
Water is everywhere. At the start and finish, we will have McDonalds/Dasani Water at Paul Brown Stadium. And at our water stop at mile 4. we will have Alpine Valley Water. There will be over 100 volunteers from the Ronald McDonald House passing it out. Give them a hand!
24. I'm starving when I finish these fun races, is there food?
Paul Brown Stadium will be filled with food, refreshments and music. You will enjoy Brueggers bagels, products from Kroger, Sunny D drinks, Dasani water, McDonald's products, and much more to tide you over until that BIG Thanksgiving Day Turkey Dinner.
25. Is there good viewing for my family to watch my stellar performance?
Plenty of open space for fans.
26. What if I didn't order a shirt? Can I get one on race day?
Of course. You can purchase a shirt at the registration area. The shirt is a beautifully designed, long-sleeve, high tech exclusive race shirt. Everyone should have one of these! You can also order them online after the race for Christmas gifts (for you!). We will mail them to you.
27. When can I get my results?
As soon as you get home and go online at www.ThanksgivingDayRace.com.
28. Who does the race benefit?
The race benefits the Ronald McDonald House, Girls on the Run, UC Barrett Cancer Center, Salvation Army, Literacy Network, Kilgour School, Clark Montessori, Goodwill, Accounting for Kids, Roger Bacon, Melanoma Know More, and many others. We will also have the largest Salvation Army Kettle Campaign Kick-off on the starting line and a Goodwill Coat Drive.
29. What if I won an award?
A link to the race results and award winners can be found on the results page. Award recipients will receive a commemorative gift which can be picked up at Jack Rabbit in Obryonville from November 27th until December 31, 2016.
30. How can I thank the sponsors for their generosity?
I would be so grateful if you could write a letter or email to any of our sponsors. Click on any of the sponsor's logos to take you to their website for contact information. In addition to you, they make this race a huge success and allow us to contribute a lot of money to our charities and volunteer organizations.
31. Why can't we bring dogs to the race?
Having pets at the run invalidates our liability insurance
Dogs have left their "business" on the streets for runners to step in
Dogs do not run in a straight line and therefore interrupt the striding of fellow runners
Some dogs are not comfortable in large crowds and their barking and straining at the leash can be uncomfortable for other runners
Some people have had bad experiences with dogs and are a little intimidated by them
Dogs are not always welcome in public facilities except for aid dogs
This is a race policy that we attempt to enforce equally – and is the policy with all my races. We in no way encourage people to bring dogs to the event.
107th Thanksgiving Day Race weather forecast
Clear throughout the day.
107th Thanksgiving Day Race reviews
There are no reviews for this event yet. Raced here before? Be the first to review this event.
How was 107th Thanksgiving Day Race?
Events in the United States
Running Events in the United States