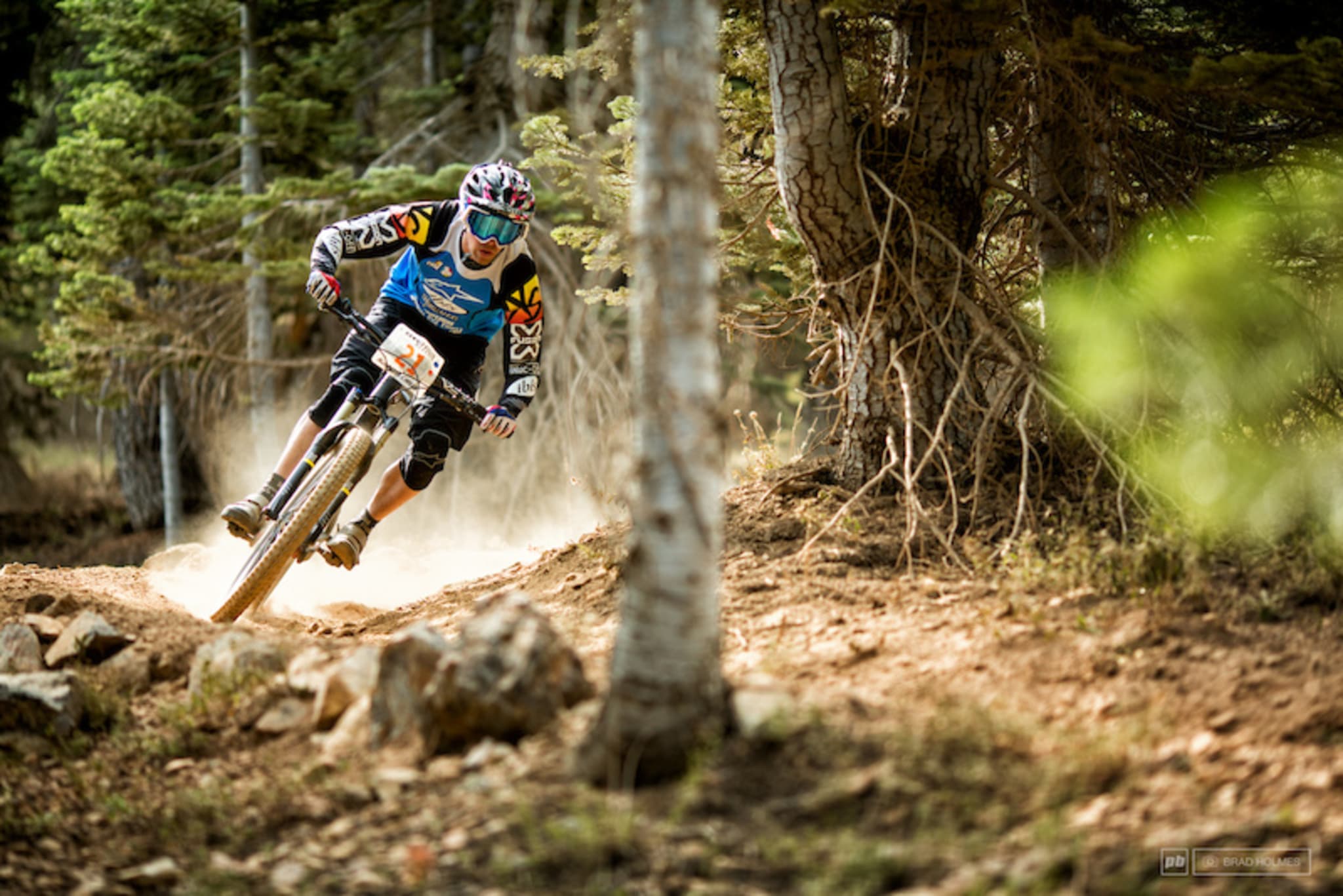 United States
California
Downieville
Downieville Classic
Thu 1st Aug 2019
Downieville, CA 95936, USA
From the organizer
Organizer's website
Since 1995, the Downieville Classic has drawn riders to the Gold Rush country of the western Sierra. Race the famous point-to-point cross-country course or shred the 15-mile downhill runor try the All-Mountain Championship, which requires racing both events on the same bike. A four-day festival around the racing includes a log pull, a river-jump contest, and live music. Even better, the event benefits the Sierra Buttes Trail Stewardship, which builds and maintains trails in the area.
Distances in this event
Downieville Classic Cross Country Race

Bike 26.5km

Thu 1st Aug 2019

Downieville Classic Downhill Race

Bike 15mi

Thu 1st Aug 2019

All-Mountain World Championships

Bike 46mi

Thu 1st Aug 2019
Where could you finish?
We'll work out your time based on past results, elevation and terrain.
What's Included
REGISTRATION FEES INCLUDE:
All net proceeds go to the Sierra Buttes Trail Stewardship, to support the SBTS Trail Maintenance Program. Fees also include; insurance, accurate computerized timing, EMT support, aid stations with refreshments, catered lunch, shuttle service from Downieville to Packer Saddle following the event, event socks, pint glass filled with cold beer at the finish, grab bag- properly equipped, Downieville School kitchen rental, Downieville Community Hall rental, Sierra County Special Use fees, US Government Special Use fees, and a whole mess of porta-potties, garbage cans and recycling receptacles.
Course Details
SIERRA CITY TO DOWNIEVILLE - All-Mountain World Championships Part 1
Sierra City to Downieville. 4,500' ascent / 5,700' descent

For 2018, we have eliminated the gravel road 93 to Baby Heads, and replaced with specatucalar all Sierra Crest singletrack on the new Gold Valley Rim Trail singletrack! Miles more of singletrack instead of gravel road.

The Downieville Classic cross country race is one of the last remaining point-to-point bicycle races in the United States. The 26.5 mile course follows a rugged "Gold Rush" era route that departs the mountain town of Sierra City (elevation 4,100'), climbs to the crest of the Sierra Nevada (elevation 7,469'), and then plunges 5,700 vertical feet into downtown Downieville. A golden pathway, selected as a tribute to the mountains, the rivers, the fresh mountain air, and to the hard men that carved these trails through the river canyons in search of gold and prosperity.

The adventure begins with an 8 mile, 3,000' climb up the face of the Sierra Buttes, a metamorphic crown that stretches 8,600' towards the wide-open sky. This legendary climb is known to many as the "Trail of Tears". It starts with pavement, turns to dirt, and then gradually steepens and narrows to a loose, exposed, shaly doubletrack. We try to make things more comfortable by providing an overhead water mister at the 2 mile point, and Clif Bar supported aid stations at the 4 and 7 mile markers.

After cresting the saddle, the route picks-up the what was previously the Pacific Crest Trail traversing the spectacular Sierra Crest with a fun singletrack descent to the top of "Baby Heads" - a fast, loose, rocky descent that is responsible for numerous flat tires, get-offs and lead changes. At the bottom of this anarchy awaits Gold Valley and the Pauley Creek crossing. This 30' wide crossing can be as deep as 3' during the race, often making it difficult to navigate across at high-speed.

Once across, the route turns to singletrack on the Pauley Creek Trail, a 17 mile creekside plunge that blends flowing turns and rolling jumps with jagged rocks and slippery roots. After descending 2,000' and crossing three foot-bridges, the trail climbs from the Pauley Creek Canyon to the Lavezzola Creek Canyon, and to the trailhead of the world famous Third Divide Trail. Third Divide is known for it's Star Wars like speeds, magic carpet tread, bermed corners and lofty airs.

After a thrilling 3 miles, Third Divide Trail dumps out onto Lavezzola Road, which descends to the upper First Divide trail, a 150 year-old water flume built to provide water to a nearby hydraulic mining site. This stretch of trail requires a ton of pedaling as it winds its way downstream through the Lavezzola Creek Canyon, across a saddle, and into the Pauley Creek Canyon to the long awaited streets of downtown Downieville for the finish.

PACKER SADDLE TO DOWNIEVILLE - All-Mountain World Championship Part 2
Sunday August 6th, 2017. Packer Saddle to Downieville. 5,333' descent / 1,010' ascent.

The Downieville Downhill is reserved for All-Mountain racers only, which means riders will have to earn their start time by completing the Point to Point Cross Country course the day before.

Dropping 5,000 vertical feet in 15 miles from Packer Saddle to Downieville, the Downieville Downhill is the longest and most demanding downhill mountain bike race in the nation. This prestigious race course follows the paths of the Sunrise Trail, Butcher Ranch Trail, Third Divide Trail and First Divide Trail. It's big, it's bad and it's beautiful.

Sunrise Trail is located mostly on private land at the top of Packer Saddle (elevation 7100'). It was designed and built by the staff at Yuba Expeditions and by volunteers working with the Sierra Buttes Trail Stewardship. Described by some as a flow trail, the Sunrise Trail proudly features banked turns, reverse grades, rolling dips and even a few G-outs. It is an action-packed, adrenaline-rushing, heart-pounding two miles of trail, and it's only the beginning. The 2 mile trail stretches back and forth across the hillside connecting Butcher Ranch Trail.

Butcher Ranch Trail is the trail that made Downieville famous for singletrack, and it's for good reason - this trail rocks! Butcher starts as a steep, 40+mph doubletrack with two-wheel drifty corners and big, smooth table-top jumps. Fun if you're fresh, nerve racking if you're fatigued. After a little more than a mile, Butcher narrows down to a tightly forested, rocky singletrack. The trail is fast, it's slow, it's smooth, it's rocky as hell; metaphorically speaking, Butcher Ranch Trail has it all, including a 700' climb midway to the Third Divide trailhead. This painstaking climb is where the Downieville Downhill can be won or lost. Racers either stand up and pin it, or lower their head in exhaustion and defeat. Which will you be?

The Third Divide Trail is 3 miles of Sierra singletrack bliss, and despite being the fastest section of the course, it's where racers must find a way to relax and regain some composure after the climb. Third Divide drops into the Lavezzola Creek drainage and eventually hooks-up with First Divide Trail, a 2.5 mile roller coaster where the real pedal work starts. It's also another section of the course that can make you or break you. Following First Divide is a 1.5 mile sprint down Main Street to the finish line. The Downieville Downhill is the Ironman of mountain bike downhill events and we're proud to be able to bring it to you.
Raceday Logistics
THURSDAY
10:00 am - 4:00 pm Yuba Expeditions Trail shuttles, rides and swimming
5:00 - 8:00 pm 3rd Annual Volunteer/Industry Rep Trifecta Competition
5:00 pm Hot dog weenie roast and sides brought to you by Hangtown Electric at Yuba for purchase
5:00 pm Cold beer and drinks for purchase plus SBTS Merch Booth open
8:00 pm - 10:00 pm DJ Coop Music and Breakdancing Competition
FRIDAY
10:00 am - 4:00 pm Trail shuttles, rides and swimming
3:00 - 7:00 pm Registration in Downieville Community Hall
5:00 - 8:00 pm Food trucks offering delicious eats for purchase
8:00 pm Santa Cruz movie night Yuba Theatre in Downieville - Napoleon Dynamite
SATURDAY
7:00 - 9:00 am Registration at Sierra City Community Center
7:00 - 11:00 am Coffee, bacon, avocado, pancakes and syrup in downtown Downieville
9:30 am Cross country race start in Sierra City
10:00 am Downieville Classic Expo and Marketplace
12:00 pm Rider food feed by Fire Dept and Beverage Garden flowing for purchase
6:00 - 7:00 pm - Log Pull World Championship
8:30 -10:30 pm Downieville dance party and live music
SUNDAY
7:00 am - 11:00 am Coffee, bacon, avocado, pancakes and syrup in downtown Downieville
9:30 am - Downieville Downhill race start
10:00 am - Downieville Classic Expo and Marketplace
12:00 pm - Rider food feed by Fire Dept and Beverage Garden tasties flowing for purchase
Travel
The event will take place at in Downieville, CA 95936, located about 2 hours from Sacramento via CA-49 N.
Volunteers
Volunteers are the HEART and the SOUL of the Downieville Classic! Downieville Classic volunteers receive the following perks for helping us pull this anarchy together, all while having one hell of a good time.
$5.00 Camping in downtown Downieville
Free event T-shirt
Free food and beverage
Behind the scenes perspective
We need volunteers to help with the following:
Course Marshal - EMTs, experienced motorcycle riders, staffing for aid stations
Bike Check - valet at bicycle storage in Downieville
Traffic Control - Sierra City and Downieville
Shuttle Driver - must have a valid Drivers License
For specific volunteer questions:

Debbie Bonovich
Volunteer Coordinator Downieville Classic
Sierra Buttes Trail Stewardship
[email protected]
FAQs
POINTS SYSTEM FOR ALL-MOUNTAIN

In the spirit of competition, we'll be using a Points System to determine our All-Mountain World Champions. Lowest points wins. A points tie will default to the riders DH finish position.

1st - 1 pt
2nd - 2 pts
3rd - 3 pts
4th - 4 pts
5th - 5 pts
6th - 6 pts
7th - 7 pts
8th - 8 pts
9th - 9 pts
10th - 10 pts
11th - 11 pts
12th - 12 pts
13th - 13 pts
14th - 14 pts
15th - 15 pts
16th - 16 pts
17th - 17 pts
18th - 18 pts
19th - 19 pts
20th - 20 pts

"Stick to the Track"
Some riders seem to be all too familiar with racing events like Megavalanche, and other big mountain enduros, where the fastest man or woman down the mountain, regardless of the route, is crowned champion. This type of racing became a problem in the 2010 Downieville Classic, as we had several riders using what we like to refer to as "Hillbilly Lines". We are officially ending this method of racing, by placing course marshals in known "cutter" areas. Riders that do not stick to the track will be disqualified.
Reviews
There are no reviews for this event yet. Raced here before? Be the first to review this event.
How was Downieville Classic?
Questions & answers
Get answers from our team or a member of our dedicated community.
What would you like to know about this event?
Submit
More from Downieville Classic
Stay up-to-date
Personalised race recommendations near you, important ballot openings and race discounts.