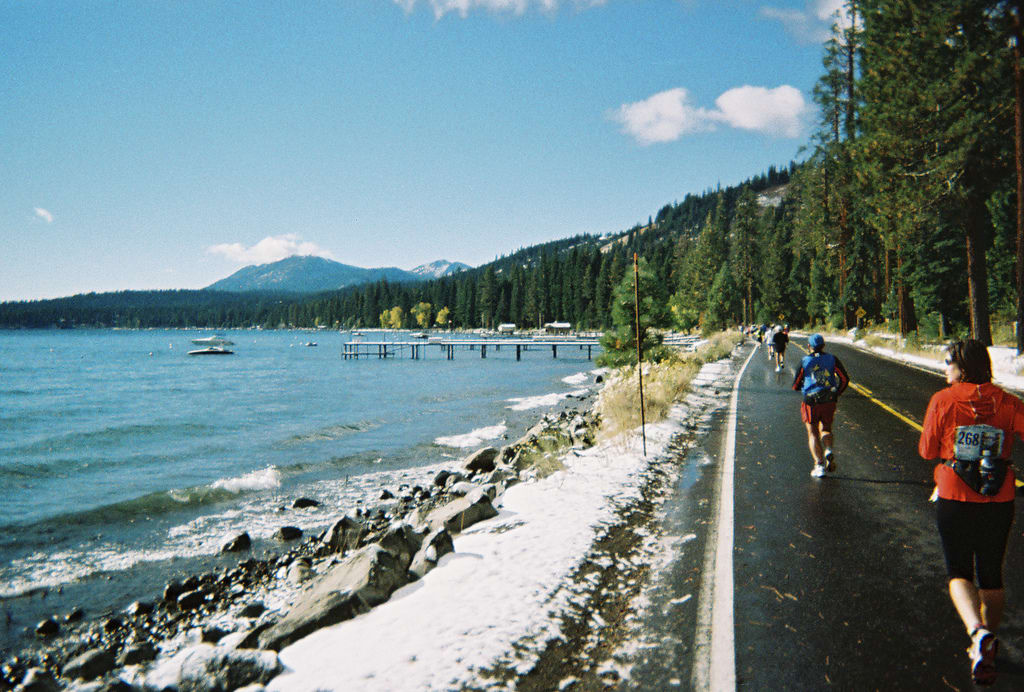 Suggest an edit
See any improvements? Be the first to make this page better.
Why book with us?
Official booking partner

Best price guarantee

Free injury protection
Have a question? See our Help Center
We're #1 for customer satisfaction
The Lake Tahoe Marathon promises 3 whole days of running fun with 14 races to choose from, with the stunning backdrop of fall time in Lake Tahoe. Runners will have the choice of distances ranging from 5km to 72 miles, and will join thousands of like-minded athletes for an epic endurance weekend.
How to enter the Lake Tahoe Marathon
Carnelian Bay Half Marathon

Emerald Bay Half Marathon

Lake Tahoe Double Marathon
Lake Tahoe Marathon routes
Lakeside Marathon (Friday):
The Lakeside Marathon course starts in California at Lakeside Beach at 6230' and goes up to 7000' at Spooner Summit and back down to near lake level at 6300' and finishes in Nevada at Incline Village. There will be at least six Aid Stations along the marathon route, approximately every 4 miles.
Runners will need a headlamp for the first hour of the race.
The route will be run 99.8% in Nevada, but with a couple hundred yard in CA, it can be counted for either state if you are on the quest to run all 50 states.
Nevada Half Marathon (Friday):
If you're looking for something a little easier on the legs, the Nevada Half Marathon is a boutique downhill half marathon starting at the top of Spooner summit. The first 11 miles will take you almost exclusively downhill, heading north to Incline Village. The race starts at ~7000' and ends near lake level at 6250', will breathtaking views of the lake along the route. There will be a shuttle bus from Lake Tahoe Resort Hotel on the morning of the race, but post-race transportation is not included. There will be at least three Aid Stations along the route, approximately every 3 or 4 miles.
Cal-Neva Marathon (Saturday):
The Cal-Neva Marathon is a boutique marathon limited to 100 runners and is run as part of the Tahoe Triple. The course starts at Sand Harbor, Nevada, which is south of Incline Village, and ends near Meadow Road & H89 just south of Homewood, CA. It is the fasted and the flattest marathon of the 3 marathons over the weekend, circumnavigating the lake with stunning views for the entirety of the course.
You will need a headlamp for the first hour of the race and safety flashers. These can be dropped at the first aid station to be collected at the finish line.
Shuttle buses will take you to the start line, leaving from next to the Lake Tahoe Resort Hotel at the Stateline Transit Center, 4114 Lake Tahoe Blvd, SLT, CA. Post-race transportation is not included, so you will need to arrange your own transportation after the run. There will be at least six Aid Stations along the marathon route, approximately every 4 miles. Finish line is just south of Homewood.
Carnelian Bay Half Marathon (Saturday):
This boutique half marathon course starts from Carnelian Bay and ends at Meadow Drive & H89. It will start when the Cal Neva Marathon passes through the area, and will finish just south of Homewood along the closed H89. At the finish area, runners can enjoy a chilling dip in the lake, a beer and a hotdog and mingle with their fellow runners.
72 Mile Tahoe Midnight Express (Saturday - Sunday):
The 72 Mile Tahoe Midnight Express will start from the Expo on Saturday night at 9:00pm, and end at Lakeside Beach with the Lake Tahoe Marathoners on the Sunday. You will travel counter-clockwise around Lake Tahoe, making sure the Lake stays on your left. There is an 18-hour time limit with official timing ending at 3:00pm on Sunday. There will be an orientation meeting at The Landing on Saturday afternoon at 4:00pm where you will pick up your runners singlet, t-shirt and race bib. Earlier starts can be arranged to accommodate the 3PM finish line closing.
The first 48 miles will be unsupported (until mile 2 of the Lake Tahoe Marathon), meaning all runners will need to provide their own support vehicle and crew.
Support vehicle-person will be allowed to support up to 3 runners maximum.
The first few miles will have streetlights as you go through Round Hill and Zephyr Cove. The course is on the road with a few bike paths to move on to whenever possible, but will have narrow shoulders in several places, especially the tunnel at Cave Rock (about 40 yards long) and the road between Glenbrook and Spooner Summit, so please be careful and make sure you are always aware of your surroundings.
Always keep the Lake on your left. When you get to Tahoe City there is a fork in the road that will take you to Truckee if you are half asleep. Take H89 to the left. Cross Fanny Bridge and keep the lake to the left.
All runners for the 72 miler MUST be lit with night reflecting gear, flashing lights that will not be missed by approaching cars, and a headlamp. Runners who show up at the start line without these lights will not be part of this event.Lake Tahoe Double Marathon:
The Lake Tahoe Double Marathon is comprised of the Cal-Neva Marathon course & Lake Tahoe Marathon back-to-back. It starts at Sand Harbor entrance on Saturday night or early Sunday morning and has a 3:00pm cut off on Sunday. Runners will finish with the over events at Lakeside Beach, making a total distance of 52.4 miles.
This is not an organized race, so you will choose your starting time so that you finish before the cutoff at 3:00pm on Sunday. You will need to text in your name, number and starting time to the timer before you set off.
You will need:
Support vehicle & crew as the first 26 miles are unsupported
Lit with reflective gear, flashing lights, and a headlamp.
If you time it right, try to be at the start line of the Lake Tahoe Marathon on Sunday morning so that the final 26 miles will be supported.
Lake Tahoe Marathon (Sunday)
The flagship event of this weekend is a marathon that is not to be missed. Runners will be bussed to the starting line on H89 at Meadow Road just south of Homewood, CA, and will run around part of the lake to Lakeside Beach.
The run with start by taking you through the village of Tahoma, with a small hill between mile 2-3, before taking you down to lake level at Meeks Bay. Enjoy wooded areas with stunning lake views from mile 4 - 8 when you hit Rubicon Bay and the "Hill from Hell" where you will climb up about 520' to the sound of bagpipes that will be urging you along the way. From there, there are some minor hills up and down, before giving you some respite for the second half of the course which is all flat or downhill.
At 15th Street, you will turn into Tahoe Keys (mile 19), running on bike trails and back streets until you eventually finish at Lakeside Beach where you will be celebrated by large crowds or cheering supporters, a finisher's medal and a bottle of water. Grab a cold beer before wading into the cold blue waters of Lake Tahoe to sooth your tired feet before heading over to get a hot dog and goodies.
There is little chance of a PR due to the challenging nature of the course, so runners are encouraged to enjoy the day, the beauty, and nice people you will be running with. You may not have a fast time, but you will have a great time at the Lake Tahoe Marathon.
16.4 Miler:
Run, jog or walk your way through this Sunday morning jaunt with breathtaking views that you will never forget. The course starts at Bliss State Park (the top of the "Hill From Hell") and ends at Lakeside Beach where you will enjoy the buzzing finish line party with all your fellow runners from the weekend.
This is a non-competitive event for walkers/joggers. There will be finisher's medals and timed finisher results, but no competitive awards. The event is designed for power walkers, but runners are more than welcome to use it as a 16.4 mile training run for future marathons. This is mostly a downhill course with one 200' hill about 3 miles into the event. After that it is all downhill or flat, where participants can really absorb their surroundings and the epic views.
Shuttles will run from near Lake Tahoe Resort Hotel - Stateline Transit Center - to the starting area. Check the back of your bib for specific shuttle information.
Edgewood Tahoe 10K:
If the half or full marathon distances are a little too daunting, take on the Edgewood Tahoe 10K. Starting and ending at Lakeside Beach, the route will be run on a mixture of bike paths and dirt trails through the Edgewood Golf Course, providing stunning lake or meadow views for the entirety of the course.
Super Hero 5K Pumpkin Run:
This is a looped course fun-run that starts at Lakeside Beach, and goes into Edgewood Golf Course running on their famous lakefront fairways. Those who go the extra mile to dress up will get a 1 minute head start, and the best of them all will be awarded a dinner for 2 at Jimmy's Restaurant at The Landing, across the street from the finish line.
Frequently Asked Questions
Is the Lake Tahoe Marathon a Boston Marathon qualifier?
Yes, this event is a qualifying race.
Can I pick up my race bib for the Lake Tahoe Marathon events at the Sunday start line if I miss the Saturday bib pick up at the Expo?
Yes, and you can collect your other goodies at the finish line, however, please keep in mind you may not get your desired t-shirt size.
Can I run any of the events at the Lake Tahoe Marathon with a stroller?
Yes, the 5K and 10K have closed roads along the route so are suitable for strollers. The other races are not recommended for strollers due to traffic on the roads.
Lake Tahoe Marathon weather forecast
Clear throughout the day.
Light breeze possible, up to 5mph
Meet the organiser
Are you the organizer? Claim this page
Lake Tahoe Marathon
View website
On Saturday choose the Cal-Neva Marathon or the Carnelian Bay Half Marathon and on Sunday you get the 24th Lake Tahoe Marathon or the spectacular downhill Emerald Bay Half Marathon. Plus much more including the Midnight Express 72-mile Ultra, 4-Person Marathon Relay, 16.4 Miler, the Edgewood 10K, the Super Hero 5K as well as the Kids Free Pumpkin Run. And it all comes with the spectacular scenery of Lake Tahoe with Fall colors and the best aid stations you will ever enjoy. Bring your friends for 3 days of running fun. _TMW5627.jpg Video of our race.. See the 2019 LTM Video See the 2018 LTM Video See the 2017 LTM Video See the 2016 LTM Video Questions: Les Wright, The Ring Master Join us on Maui January 17, 2021 13th Maui Oceanfront Marathon IMG_8994.JPG
Loading
Lake Tahoe Marathon reviews
There are no reviews for this event yet. Raced here before? Be the first to review this event.
How was Lake Tahoe Marathon ?
Something missing?
We're rebuilding our event pages and would love your input. Please suggest anything you would like to see on this page.
Events in the United States
Running Events in the United States
Secure your place
Book Now
Official booking partner

Best price guarantee

Free injury protection
Have a question? See our Help Center
We're #1 for customer satisfaction