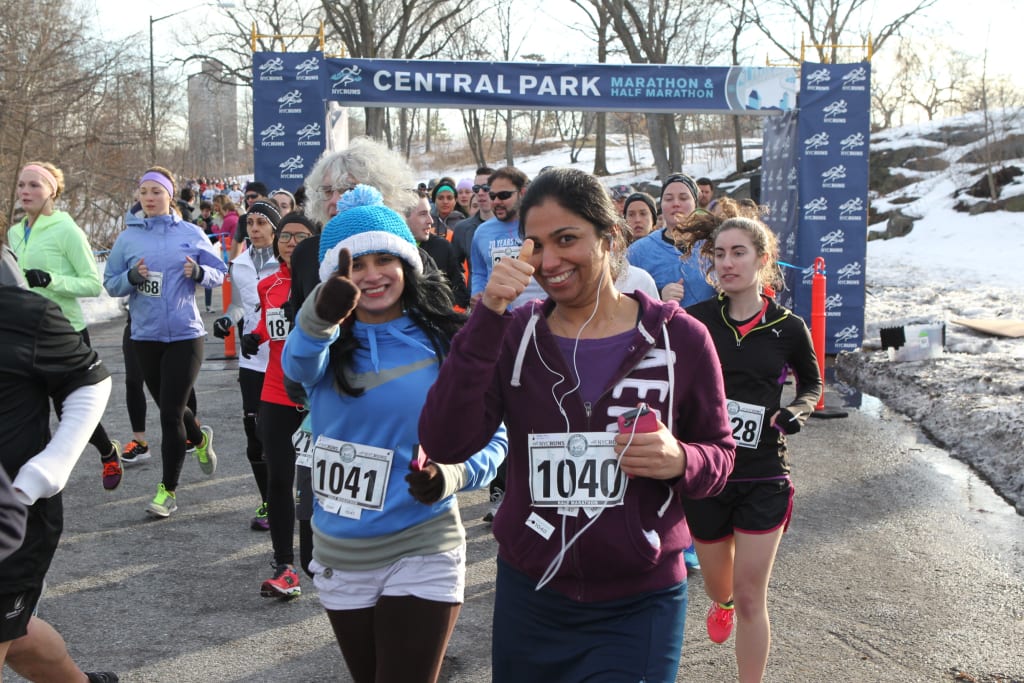 NYCRUNS Central Park Half Marathon
Run 13.1mi
Head out on a wintry tour of the iconic Central Park in this stunning half marathon. Your fitness will be put to the test by the rolling hills, and you'll be rewarded with a giant spread of local foods when you triumphantly cross the finish line.
Review summary
Course

Organisation

Atmosphere
"If it rains the bag check is in the open rain was not known. At the least..."
"All the organisation were perfect : where the race started, restrooms, etc...."
"Really well organised and a fun race. I loved the course - a bit hilly but a..."
How to enter the NYCRUNS Central Park Half Marathon
NYCRUNS Central Park Half Marathon route
Starting on the West Drive near 96th Street, participants complete 2 and a half laps of the park. The loop crosses 72nd Street, climbs Harlem Hill, and returns on the 102nd Street transverse.
Frequently Asked Questions
What are the age restrictions?
Half Marathon: Participants must be aged 16 or over
Is there a cut-off time?
Half Marathon: within 3hr30mins (16 mins per mile) If you are slower than this pace, there will no longer be aid stations and on-course amenities provided, and you may be asked to stop.
Where can I leave my bags?
There will be a bag check area provided near the start line.
Are there toilets?
Yes, there will be toilets provided.
Where can I find my results?
Your results will be emailed to you, and the full results will be posted on the event organiser's website. You will also be able to view your finishing line photos and videos.
Are dogs or strollers allowed?
No, dogs and strollers are not permitted on the course.
Can I wear headphones?
It is not permitted to wear headphones during the race. If you desperately want to listen to music, you are allowed to wear one earbud in. If you are seen wearing both earbuds or headphones, you may be disqualified.
Have a question? Get answers from our team.
NYCRUNS Central Park Half Marathon weather forecast
Partly cloudy throughout the day.
Light breeze possible, up to 10mph
Meet the organizer
There are now over 24 running events organised by NYC runs, with thousands of participants. The biggest events in their calendar are the Brooklyn Marathon & Half Marathon and the Newport Half Marathon. With professional timing, accurately-measured courses, and a world-class medical team, these events are brilliantly organised. The post-race festivals guarantee that athletes will have the best possible experience.
Other events from this organizer
NYCRUNS Central Park Half Marathon reviews (13)
Course

Organisation

Atmosphere
If it rains the bag check is in the open rain was not known. At the least someone could have got plastic trash bags imho. Because of the rain some people were crowding in behind sections of the tents. Some volunteers were good but some were not courteous. Some of the Volunteers could have been trained to be nicer.

All the organisation were perfect : where the race started, restrooms, etc. Just two things were, in my opinion, missing on this race :1/ the location - provided before the race if possible - of the drink spots2/ with a weather like we have on the 2018 race, a spot where runners could be shelter after the race have been nice (but I know that weather is unpredictable and it's not easy to plan an entire shelter spot for hundred and hundred runner !)

Really well organised and a fun race. I loved the course - a bit hilly but a good challenge!Bad: the bag check was completely exposed to the rain! Everything was soaked!

It was a fun day. Thanks for going through with it despite the inclement weather.A plastic tarp to put the bags on and cover them with temporarily during the downpour. Having said that, it was difficult to account for the extremely bad weather early on.Thanks,Mark

This race was very amazing and nice, even it was raining but organisation by nycruns was done very well. Thank You

This was my first time running in Central Park, as I was visiting a friend for the weekend. Picking up the bib and t-shirt on race day was really easy. The weather was a bit wet and cold, though and there wasn't much shelter in the park. As I had about an hour before the race start, I ended up in a Starbucks along with a few other runners. I don't know if there is any feasible way to have shelter, but that was one thing that was a little annoying. The post-race bagels were also pretty tough to eat, but that's a minor detail.On the race course, there were a number of people walking or running in the opposite direction. I'm not sure what to really do about that and it wasn't as big a deal once the race thinned out a bit.

Everything was perfect, starting from number pickup on race day, to baggage check, race organizers, course Marshalls, volunteers, everything.

This was my first half marathon so I dont have anything to compare it to, but I thoroughly enjoyed it! I felt the water stations were placed appropriately and the atmosphere was welcoming. The course itself was challenging but thats to be expected from Central Parks hills. Great race!
Events in the United States
Running Events in the United States