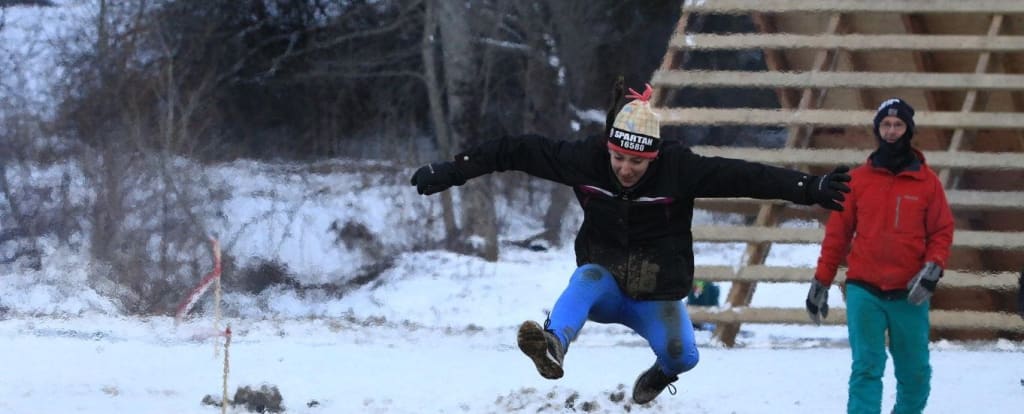 Spartan Race – Greek Peak
Why book with us?
Official booking partner

Best price guarantee

Free injury protection
Have a question? See our Help Center
We're #1 for customer satisfaction
Test yourself in the bitter cold around Spartan's iconic obstacles at Greek Peak Mountain Resort. Great for those seeking a thrilling and formidable challenge, the sprint option tracks 5km and beholds over 20 obstacles. Come for this epic experience in a unique environment.
Review summary
Course

Organisation

Atmosphere
"I had a blast competing this weekend, I had a friend that came along and raced..."
"The race, venue and community was super awesome, my wife and i loved it, we..."
How to enter the Spartan Race – Greek Peak
Spartan Race – Greek Peak routes
3+ miles & 20-23 Obstacles (Sprint Distance):

The Sprint is Spartan's shortest distance race, but it's still a favourite amongst both new and returning racers. Delivering 20-23 obstacles over 3-5 miles, you'll never run the same race twice. Once you complete the sprint you are 1/3 on your Spartan TRIFECTA: The ultimate Spartan achievement.

Kids Race:

Spartan Race isn't just for adults. Spartan Kids Race offers two distances. Based on age, Kids races have obstacles in them just like the grown up versions. Come watch your future Spartans run, jump, and play just like they're supposed to.
Frequently Asked Questions
Can I take part as a team?
Yes, a lot of teams take part in Spartan races in the Open heats. There are discounts and offers available for teams, so get a group of friends together for the challenge! Your friendship might be tested in some of the difficult stages, but it will be stronger than ever afterwards once you've been through it all together. Why not sign up with a team from work and show off in front of your employees or your boss? The mud, hills, and obstacles will be a great scene change from the office desk. There is a special corporate package, giving an amazing opportunity to boost team morale.
What does my registration fee include for the Spartan Race - Greek Peak?
The registration fee includes racer insurance, bag check, and merchandise discount.
Will there be water stations around the course at the Spartan Race - Greek Peak?
Yes, there will be marshals and water stations all around the course so that you are hydrated and safe the whole way around. However, feel free to bring your own gel's or water on the day.
Will I be able to check my bag in?
Yes, bag check is included in your registration fee and will be available at the Spartan event venue. Make sure to arrive early to ensure enough time to take care of all check-in logistics.
Have a question? Get answers from our team.
Is your question about booking your place? See our Help Center
Spartan Race – Greek Peak weather forecast
Clear throughout the day.
Moderate breeze possible, up to 11mph
Meet the organizer
Spartan is a leader in the sport of obstacle racing, offering open heats for all fitness levels, as well as competitive and elite heats for those with something more to prove. The first of its kind to feature timing and global rankings, Spartan provides a proving ground for beginner and professional obstacle racers looking to test themselves in new ways across the world.
Other events from this organizer
Spartan Race – Greek Peak reviews (2)
Course

Organisation

Atmosphere
I had a blast competing this weekend, I had a friend that came along and raced elite with me, it was encouraging to have him and his excitement help carry us through such an event!

The race, venue and community was super awesome, my wife and i loved it, we always have blast on spartan races, personally i have had so many races gone badly but no matter how bad it was i never leave disappointed, i love everything about spartan race, and i will continue my spartan jurney with my wife.Spartan Lefty
Events in the United States