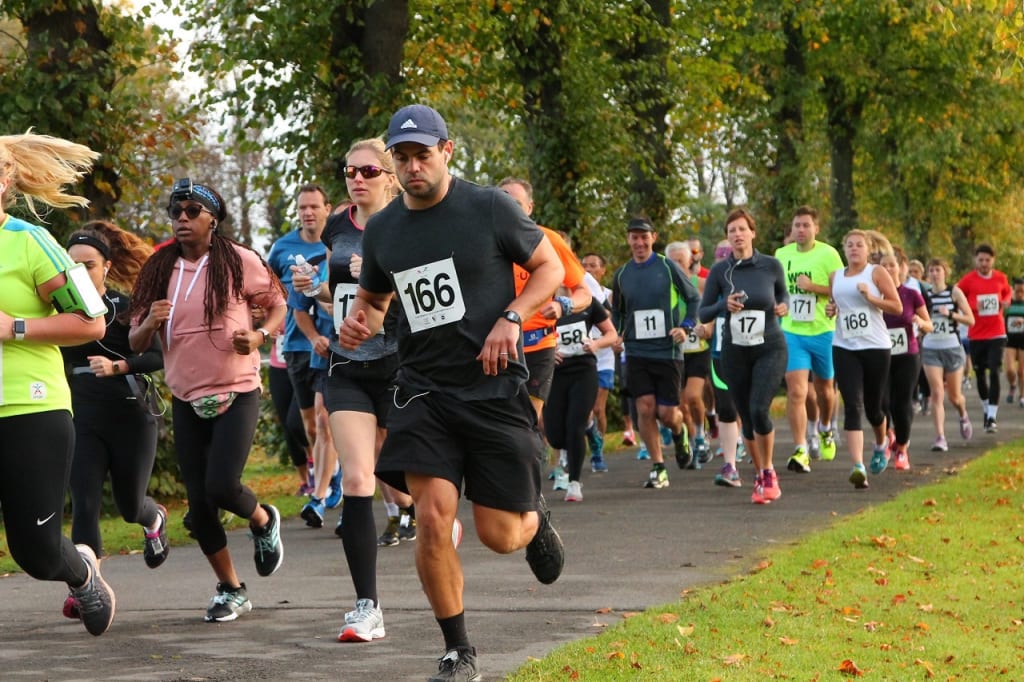 Rother Valley Running Festival
Rother Valley Country Park is the perfect location for a new exciting running festival. Set just outside of Sheffield and Rotherham with easy motorway access it's the perfect event location for all runners looking to achieve their goals before the year-end. The Routes are pretty flat so they should be quick courses for this time of year.
Review summary
Course

Organisation

Atmosphere
"Flat half marathon on a good surface in nice surroundings. Laps were long..."
"The event takes place in the picturesque setting of Rother Valley. Im a great..."
"Very well organised Totally hassle free turn up and..."
How to enter the Rother Valley Running Festival
Rother Valley Running Festival routes
Start: Near Café Car Park, very small walk from RACE HQ.
Finish: Outside RACE HQ.
The courses are designed for all runners, of all abilities and are reasonably flat courses. The different race options utilize repeated laps on the paths and roads around the lakes. Each lap runners will receive their lap splits and can have this useful data to digest literally as they finish.
All races share the same finish; this is located outside the race HQ next to "The Green" with a stunning Lakeside view as a backdrop. Supporters and loved ones can also track your progress online, so whether they are at the event or at home they can appreciate your efforts.
There will be signage on the day instructing you on start areas, laps and the finish area. The course will be fully signed and marshaled. You will also be given bands to count your race laps and have access to a screen that will show the number of laps that you completed as you cross the line.
Rother Valley Running Festival weather forecast
Possible drizzle until afternoon, starting again overnight.
70% chance of rain
Meet the organizer
#89
Cannonball Events are ranked #89 in the UK out of 560 organizers
Cannonball Events Limited provide innovative Road, Trail & Fell Running Events In The North of England and Scotland.
Other events from this organizer
Rother Valley Running Festival reviews (10)
Course

Organisation

Atmosphere
Did the Half Marathon in 2018

The event takes place in the picturesque setting of Rother Valley. Im a great advocate of running near to water so four and a half flat laps of the two lakes made it pretty easy going. A personal best time for me!Having registered in advance I was able to arrive, park the car, get a coffee and set of to the start line all in good time.

Very well organised Totally hassle free turn up and run

Did the Half Marathon in 2018

Flat half marathon on a good surface in nice surroundings. Laps were long enough that it wasn't boring, broke down the distance nicely. Paths were wide so having runners on different laps didn't cause any issue, although was open to public so be aware that some care may be needed to pass safely sometimes.Thanks to the organisers and marshals who were spread through the course and were very encouraging and friendly. Live online timing system was good for spectators to be able to tell what was going on.Seemed to be some runners unsure of where to go for registration and start, so signage could possibly be improved.

Did the Half Marathon in 2018

Good running conditions in 2018, so was able to run in regular kit including road shoes. Limited entry means the course isn't over crowded and for a multi lap event it's a picturesque place to run in.

First ever marathon and couldnt have chosen a better one.

Did the Half Marathon in 2018

The route when the race splits on the final lap was a little confusing. The marshal wasn't clear enough so as I passed him I thought I'd finished, but I still needed to go on another 100 metres! I booked late so couldn't order a medal or T Shirt, and on the day it was cash only so I was a bit limited in that respect. Starting line was well setup and generally the route was well put together

Did the Half Marathon in 2018

Really enjoyed the event, the small amount of competitors made the start nice and easy without having to negotiate slower runners. Will be recommending the run to others as Personal bests are there for the taking.

Did the Half Marathon in 2018

It's a very flat course. For me the half marathon was enough with it been laps, I wouldn't enjoy running a Marathon on this course. However it would be a brilliant race for someone wanting a PB.

Really good course. 9 lap route which lent itself well to taking on your own drinks (with support). Surprisingly quick course.

Did the Half Marathon in 2018

Easy to get to. Quick parking and exit. Flat and fast course. Not too busy so you could run hard. Good facilities.I only gave atmosphere a Meh because there werent loads of people, BUT the organisers and spectators were encouraging and they had music. Guess Im just comparing it to bigger events with bigger crowds and a buzz at the finish. I just crossed the line and that was it. Not much going on. It that I was bothered - just there to race
Events in the United Kingdom
Running Events in the United Kingdom