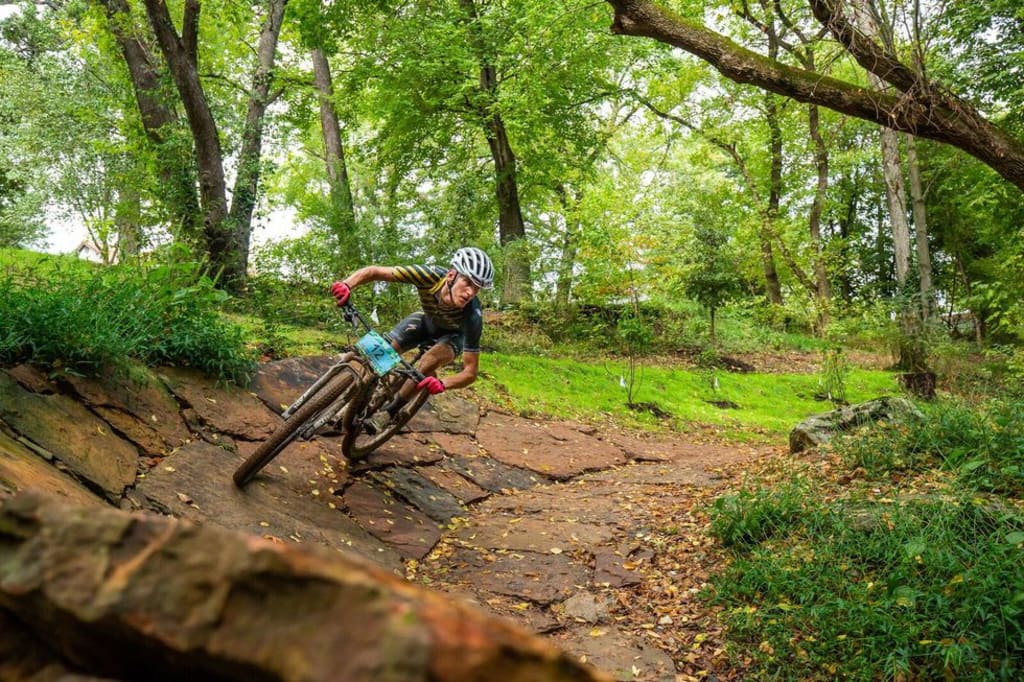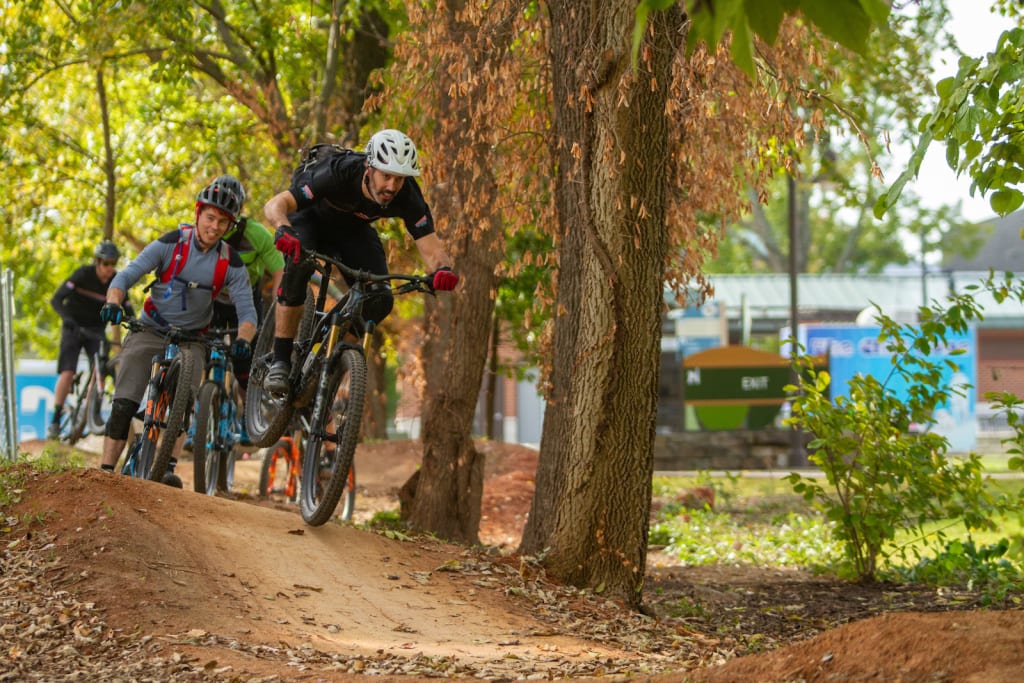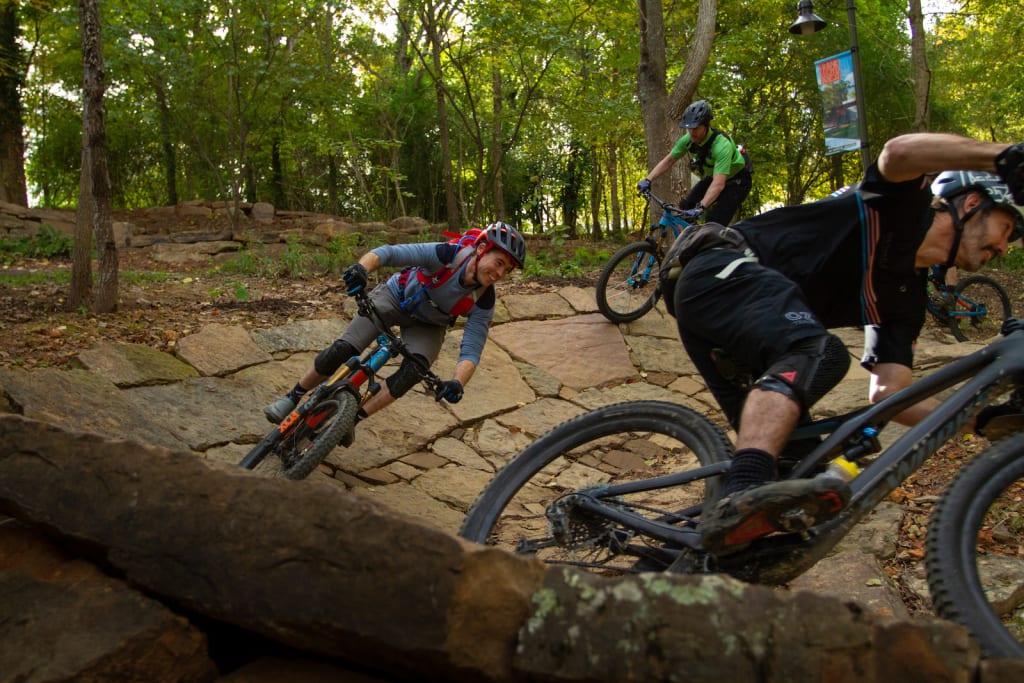 In recent years, the trail system in Bentonville has grown into a veritable mountain-bike playground. The Oz Trails Off-Road stitches together local trails to offer challenging 25-, 35-, and 50-mile courses through the foothills of the Ozark mountains. The race rolls out from downtown Bentonville, and Epic Rides provides well-stocked aid stations for each distance. Three days of festival activities, including professional fat tire crits and live music, complete the experience
Review summary
Course

Organisation

Atmosphere
"The trails in Bentonville are amazing, and this event was so well run. I can't..."
How to enter the Oz Trails Off-Road
Oz Trails Off-Road routes
The Oz Trails Off-Road allows participants to choose from the Ozark 25, Ozark 35 and Ozark 50 graduated route options. While "Ozark" pays homage to the Oz Trails network, each number represent the distances of each route in miles (+/-).
All three routes will challenge riders with varied rolling terrain connecting world-class purpose-built singletrack for mountain biking in the beautiful and rugged Ozark Mountains of Northwest Arkansas.
Boasting more than 200 miles of trails connecting communities, Northwest Arkansas has become one of the hottest new mountain bike destinations in America thanks to more than $30 million invested into trails development over the last five years alone. The Oz Trails Off-Road will celebrate this community investment by taking participants on numerous feature trails, including the Slaughter Pen trail system, the Back 40 trail system in Bella Vista, AR and more.
Ozark 25
The Ozark 25 is the beginner-level "fun ride", featuring a total of 3,100 feet of elevation gain. After rolling out of downtown Bentonville for the first seven miles on mixed terrain (pave` & dirt), the course hits singletrack, meandering around Lake Bella Vista and into Blowing Springs Park, connecting to the Back 40 Loop via South Upper Trail. Riders will then experience Rago trail before returning to Lake Bella Vista and hitting Smuggler's Run. The Ozark 25 then enters the Slaughter Pen trail network on Armadillo's Last Stand, transitioning to a roller coaster ride on Ozone towards Crystal Bridges Museum, finishing with All American trail.
Ozark 35
The Ozark 35 challenges riders with 4,475 feet of climbing through a succession of short, punchy climbs that gradually tax the legs and lungs. With the same mass start rollout to the Ozark 25, once into the Back 40 area, Ozark 35 riders will experience more of the Back 40 Loop. Riders will then get to experience Flo Ride, an icon of the region delivering technical downhill flow with numerous features including berms, jumps, small rock gardens and limestone ledges that will spice up the ride. From there it's onto Rago and into Slaughter Pen just like the Ozark 25, but taking Tatamagouche trail, rich with wooden features and rock armoring, working over arms as well as suspension before finishing the same way as the Ozark 25 via the legendary A-line bike to school route included in the Ozone trail.
Ozark 50
Not for the weak, the Ozark 50 is a big day on the bike and will also be the route for the Professional Men and Women on Sunday. Packing in a whopping 6,245 feet of climbing in 50 miles.. Following the same route as the Ozark 35, after completing Flo Ride, the route goes on to SBAT and Taylor Homestead trails before arriving at The Ledges, a technical, black diamond trail infamous for narrow, rocky singletrack along a ledge high above a creek bed, requiring laser focus and skill to negotiate. The Ozark 50 then hits Back 40 Loop and follows the same route home as the Ozark 35.
Aid Stations & Rider Support Crews
Our wonderful volunteers will staff 3 Aid Stations throughout the weekend:
Lake Ann Aid Station (Fri, Sat & Sun)
Pinyon Creek Aid Station (Sat & Sun)
Euston Aid Station (Sat & Sun)
SUPPORT CREWS
Participants may receive "hand-ups" from their support crews at the following locations:
Lake Ann Aid Station
Pinyon Creek Parking Lot: access off Castleford Dr.
AID STATIONS
Ozark 20 Fun Ride: Lake Ann Aid Station (at 15 miles)
Ozark 35 backcountry course:
Lake Ann Aid Station (at 15 miles)
Euston Aid Station (at 28 miles)
Ozark 50 backcountry course:
Lake Ann Aid Station (at 15 miles)
Pinyon Creek Aid Station (at 31 miles)
Euston Aid Station (at 40 miles)
Oz Trails Off-Road weather forecast
Light rain in the morning.
High chance of rain
Moderate breeze possible, up to 10mph
Oz Trails Off-Road reviews
Course

Organisation

Atmosphere
Reasons people recommend this event
The trails in Bentonville are amazing, and this event was so well run. I can't wait for next year! The town of Bentonville has so much to offer with a warm atmosphere, great food/beer/coffee. The trail system starts right in town!!
Events in the United States