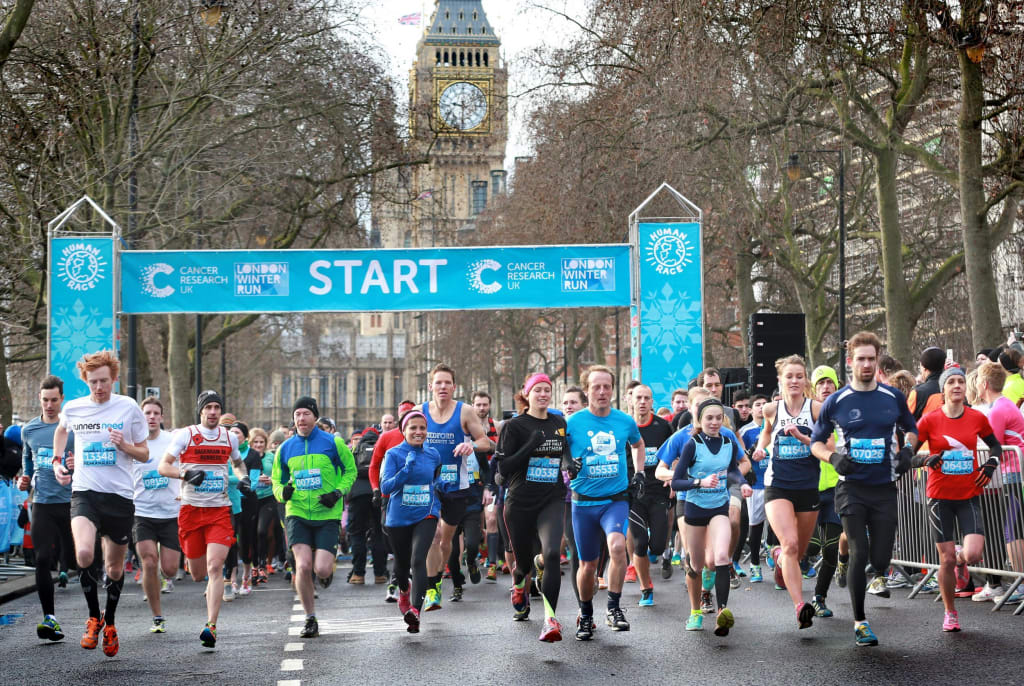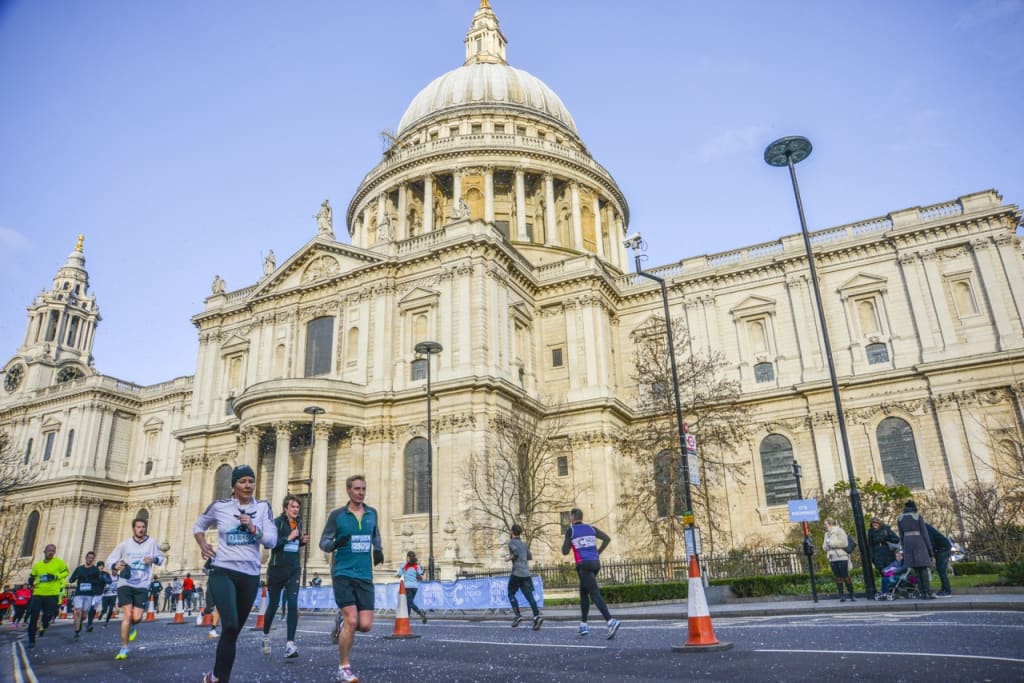 Virtual Winter Run
Run 10km
Suggest an edit
See any improvements? Be the first to make this page better.
The UK's most popular 10k has gone digital and it's completely FREE to register! Run anytime from anywhere and complete challenges and earn prizes in the build up to the main event. Get active and enjoy the community feeling by supporting Cancer Research UK, even if we can't all be together.
Human Race
has confirmed that this event will be going ahead as planned on Sunday 7th Feb 2021 in accordance with the COVID-19 safety measures.
Learn more
Review summary
"Top tips for race day: The Nuffield Health tent was right in the centre of..."
"LOVED this event!! Such a fab atmosphere. Bag drop was straight forward, lots..."
"Well organised but would love the option of toilets near the start of the..."
How to enter the Virtual Winter Run
Virtual Winter Run route
Due to the new restrictions surrounding COVID-19, it seems an in-person run isn't possible, but although you can't come together in-person...this awesome winter run has gone virtual!
Between the 22nd of November and 7th of February, EVERYONE is encouraged to lace up their running shoes and earn some awesome badges and prizes.
Entry is completely free, and runners will fundraise to earn some epic prizes on their training runs, before running the 10k distance together on the 7th of February.
Completing different challenges on training runs will earn participants a huge variety of badges, just have a look below:
5k Badge - Record a total of 5km over multiple runs
10k Badge - Record a total of 10km over multiple runs
20k Badge - Record a total of 20km over multiple runs to win bronze
50k Badge - Record a total of 50km over multiple runs to win silver
100k Badge - Record a total of 100km over multiple runs to win gold
Ice Cold Badge - Log your first 3k in one go training run
Cold Feet Badge - Record your first 5k in one training session
Deep Freeze Badge - Cover 7km in one go
Friluftsliv Badge - By logging you first run, you are living the Norwegian life!
Ice Bath Badge - Log your event day distance of 10km on a training run
12 Days of Christmas Badge - Keep activity after Christmas indulgence
Any running activity you log from the point of sign up will count towards the badges when they are live, so get started with some runs today!
Fundraising Rewards
These awesome fundraising rewards are just waiting for you so get out there and raise some money for Cancer UK!
Frequently Asked Questions
How do I upload the evidence of my runs for the Virtual Winter Run?
Your runs will automatically upload when you have connected your fitness app to your profile on the event website's dashboard. Alternatively you can manually log your runs too, so don't worry, all your hard work will be counted.
The challenges weren't live when I started logging my runs for the Virtual Winter Run, will my activity still count towards them?
Yes, all activity you have logged will count towards all of the badges, even if the badge wasn't live when you completed the challenge!
How do I find the leaderboard for the Virtual Winter Run?
In Your Team's profile page you will see your Team Leaderboard where you can search for individuals as well as people in your local area.
Is there a fundraising minimum amount for the Virtual Winter Run?
No, there isn't a minimum amount, however it is encouraged to raise as much as you can. Not only does this help fund vital work that Cancer UK are doing, but you also earn epic physical rewards for fundraising certain amounts.
How do I set my fundraising goal for the Virtual Winter Run?
You'll set up your fundraising goal when you register for the event and can edit it at any time in the 'Edit My Page' section.
Is there a minimum age requirement to enter the Virtual Winter Run?
There's no minimum age so the whole family can get involved, however runners under 18 will require the approval of a guardian!
How do I sync my tracking app for the Virtual Winter Run?
Participants can use the FitBit, Strava, or MapMyFitness apps to track their runs. Once these are set up, log in to your Winter Run account on the event website, and click the drop down menu from your name on the top right corner. Under the heading, click your chosen app and connect you app. When you next work out, select 'start your workout' in the app on your phone. Once you end your workout, save your workout and ensure that this is posted as a public activity. Your distance will be published to the tally on your page the following day!
Meet the organiser
Human Race is the UK's leading mass participation events company, putting on over 30 events each year in triathlon, cycling, running, duathlon and open water swimming. Part of Amaury Sport Organisation (A.S.O.), owners of Le Tour de France and the leader in the French running and sportive market, Human Race's prestigious portfolio includes the Royal Windsor Triathlon, Dragon Ride, Cancer Research UK London Winter Run and the Manchester Marathon.
Virtual Winter Run reviews (115)
LOVED this event!! Such a fab atmosphere. Bag drop was straight forward, lots of toilets at the start. Great course and lots going on throughout - bands, choirs, lots of cheering. Fab race

Well organised but would love the option of toilets near the start of the course so you don't need a pee before it starts!

Great course for enjoying closed streets in central London, can get a little crowded at times but overall its more about the setting than the race. A Trafalgar Sq start is brilliant. Bag check well organised. Walk from finish line back to bag check was a little chilly though...

Top tips for race day: The Nuffield Health tent was right in the centre of Trafalgar Sq and had massive blower heaters (an amazing find to warm up afterwards!) and they were giving away free hot chocolate.Would really suggest bringing a little foil blanket (theyre 10cmx10cm folded and you can get them in any running shop and foil is v easily recycled). Keep it with you for the start pens, then fold it back up and tuck it into your belt or pop it in your armband for when you finish. There is a little walk back past Horse Guards to bag drop at Traf sq where it got a little chilly and would have been great to have a little foil blanket. I cant recommend this race highly enough. Its very well organised; bag drop was quick to drop off and collect, the start line was efficient and they really pulled out all the stops. There were people dressed like penguins, huskies and 10ft polar bears all around the course giving high fives. There were bands, buskers and choirs, even the church bells were in full swing all through central London. 20,000 people run this race every year and I just assumed like other races this size, the route would be super crowded. But, due to incredible organisation and timing the course was clear for everyone. Loads of us even managed to get PBs! This is surely unheard of in a race this size. The route is right through the centre of London on completely closed roads with an incredible start right on Trafalgar Square. There was so much going on along the route that I didnt even realise wed got to mile 5 until I saw the banner, no wonder I got a PB! You definitely wont need your headphones. It was so much fun, I cant wait to run it again next year. The start/finish area is located here as well, and there was a massive stage in front of the National Gallery with bands performing all morning. The atmosphere through the whole race was just electric, so many smiles and a lot of happiness as runners raised money for an incredible cause.

I have ran this the last 3 years and love it. This year I introduced my bro in law and sister to it and then couldnt believe how well organised it is..which it is!It did for some reason feel a bit emptier this year but maybe thats cause I was in first wave. A communal warm up in tra square would be awesome rather then everyone trying to do it boxed in in the pens. Keep it up!!

I have ran this race 3 years in a row and each year it has been wonderfully organised and one of the best 10k races in London. The course is perfect for a PB or also perfect for those just looking to enjoy a nice race.

More food please in the goody bag! Good run though!

Plan you train well, mine very nearly didn't get me there on time.

Ive been running this event every year since the inaugural in 2015 and its been getting better year on year. Its always freezing, so wear layers but everything else is just great.
Something missing?
We're rebuilding our event pages and would love your input. Please suggest anything you would like to see on this page.
Events in the United Kingdom
Running Events in the United Kingdom