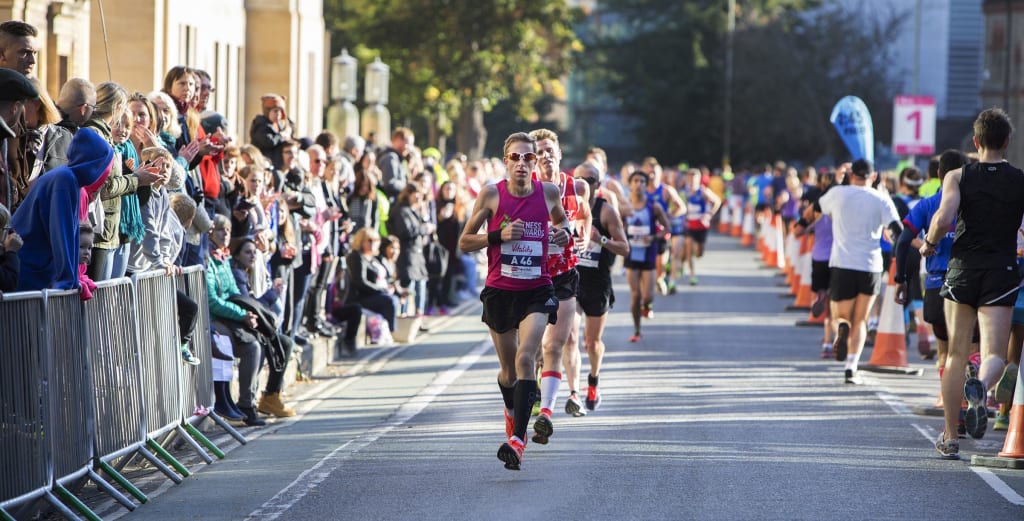 Oxford Half Marathon
Run 21.1km
Suggest an edit
See any improvements? Be the first to make this page better.
This event is popular
Viewed 400+ times this week
Enjoy this fast and and flat half marathon through the historic university city of Oxford, the home of the 4 minute mile. Speeding past the famous sights, museums and colleges you're sure to finish this one feeling a sense of both achievement and culture.
Limelight Sports Club
has confirmed that this event will be going ahead as planned on Saturday 16th Oct 2021 in accordance with the COVID-19 safety measures.
Learn more
Review summary
Course

Organisation

Atmosphere
"I've never done a Half Marathon before: this was my first at the age of 68. I..."
"In all honesty I'd not urge anyone to do this marathon. There is little of..."
"Unfortunately the weather wasn't on our side for this half and Virgin didn't..."
How to enter the Oxford Half Marathon
Half Marathon - Enter the Ballot
Oxford Half Marathon route
The course begins at Broad Street, near Trinity College. Along the way, participants will be treated to plenty of Oxford's stunning architecture and live entertainment.
A flat course, this is a great opportunity to chase down a new PB. Runners breeze past the River Cherwell and Lady Margaret Hall among others, and will end their race on Park Road.
Frequently Asked Questions
How do I enter the Oxford Half Marathon?
Due to the popularity of the Oxford Half, entry is done through a ballot system. If your ballot entry was unsuccessful, you can secure your place through one of the charity partners, and run for a good cause.
When will I receive my race pack for the Oxford Half Marathon?
Race packs can be collected from the Race Village on Oxford University Parks the day before the event. If you'd prefer for your pack to be posted to you, you will need to pay for this when registering.
Is there music on the Oxford Half Marathon course?
There will be DJs, local bands and live music throughout the course to motivate you until you cross the finish line.
Is there a bag drop at the Oxford Half Marathon?
Yes, there will be a bag drop for participants while they race.
Meet the organiser
Are you the organizer? Claim this page
Other events from this organizer
Loading
Oxford Half Marathon reviews (21)
Course

Organisation

Atmosphere
I've never done a Half Marathon before: this was my first at the age of 68. I loved it, and found it extremely well organized. The route is a bit on the dull side, but the compensating factor is that it is flat as a pancake (and for me very easy to get to by bus). It was amazing that although my number was covered up by my jacket, I was able to submit a photograph and be given pictures of myself (at no cost). My only criticisms are: (1) at the end when my legs were hardly working I had to walk a long way to collect my goodie bag and (2) the queues at the toilets at Marston. I only really wanted the t-shirt in the goodie bag: I think people should be offered this option. Also it isn't really very green to include an aerosol: I won't use it, but don't know how to dispose of one that is full

In all honesty I'd not urge anyone to do this marathon. There is little of Oxford you see. The goody bag is a half mile walk from the finish line. Marshalls in the race village trying to tell you which way you can and can't go. Avoid

Unfortunately the weather wasn't on our side for this half and Virgin didn't really cater for this when really, they could have as it was forecast to be a pretty wet and grim day. There were no shelters for the runners pre-race and the changing facilities were so small, we all had to line up in the cold and wet just to squeeze in and get changed after the event - Ealing half provided changing tents twice the size! They ran out of small mens t-shirts and when we questioned the bloke giving the tee's out, he was quite rude to us about it which was unnecessary as we'd put small mens on our application; we settled for a medium women's and will just have to deal with the typical women's sleeves! The goody bag was pretty decent!

The start pens weren't as clearly marked as they should have been and lead everyone to believe the D pen (where we were) was C pen, so they need to sort that out. They also bolstered that it was perfectly measured out, yet I ended up running 21.75km, not 21.1km; luckily it's a fairly flat course and I still came in under 2 hours. Although it was very wet, very cold and very miserable, the crowds were really lovely and encouraging, but it's a shame some of runners weren't, as they had no problem pushing you out of the way to get in front of you with not even a word of apology to follow - not very 'runner' spirited.

Getting to the event was easy peasy with Park and Ride - so I highly recommend using that if you're to do this race.

The medal was average to be fair, and the scenery wasn't as epic as I expected considering where we were - my fave part was going through the park/woods bit - but otherwise a pretty decent race; however, it's one I wouldn't really do again - especially not for a ballot place.

Great race for a PB as nice and flat. Route does double back on itself a few times so can get a bit demoralising seeing someone 3miles ahead of you!

It is expensive though and factor in parking costs too I think there's better value races for me.

The supporters out on the route were great especially as it rained non stop.

Would I do it next year..not sure yet

I am completing an A-Z in half marathons so this was required for the letter O. The weather was awful and there was torrential rain but there was a good crowd supporting which was surprising given a he weather conditions

I love this course! This was my second go at this half and it's given me a nice little pb! Thank you for organising such a great event! The public was awesome... as usual

I think my view may be slightly tainted by the truly disgusting weather on the day, which rendered the race village a soggy muddy mess! The walk from the race village to the start seemed quite long, and a bit of a rush for many, including myself who hadn't realised and didn't allow ample time for the walk. However, I did enjoy the race despite the conditions. I was impressed with the crowd support, considering the aforementioned torrential rain.
Some parts of the course were narrow and crowded, I found that I 'd run 0.5 km more than a half marathon at the end, probably due to all the weaving between slower runners.
Overall, I think I will come back and do this race again next year, hopefully in nicer conditions, which I think will enhance my enjoyment of the day

My first half, great atmosphere and well organised at the event.
The park and ride was very poor - long queues heading to the event from Thornhill park & ride (not enought buses).
The directions to the correct bus stop for departure after the race were poor and many runners commented about this.


On such a wet day, I wasn't expecting to love a race so much! So much support on the course from spectators and marshalls - I grinned the whole way round.
Organisation left a lot to be desired however. Race village was confusing, as was how to find the start pens (we walked waaaay out of our way), and at the end my husband who was spectating on the course struggled to reach me because of difficulties crossing the course/entering the race village. Made an otherwise amazing run very stressful.

Despite the weather's best efforts, the atmosphere of this race was fantastic and really well organised in terms of getting everyone where they should be.
Something missing?
We're rebuilding our event pages and would love your input. Please suggest anything you would like to see on this page.
Events in the United Kingdom
Running Events in the United Kingdom
This event is popular
Viewed 400+ times this week