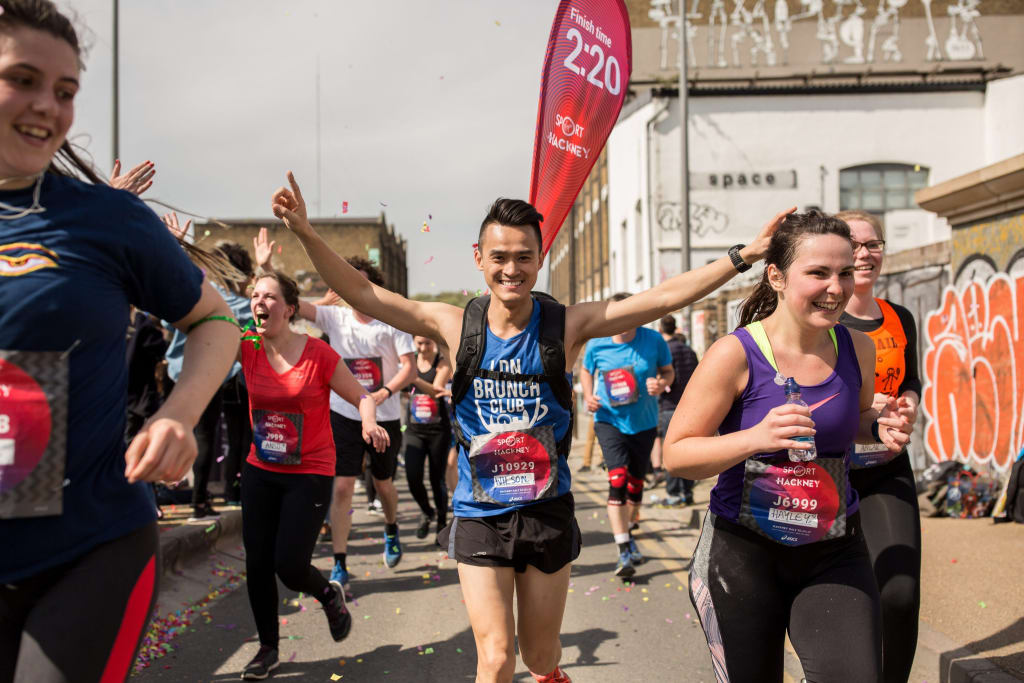 Suggest an edit
See any improvements? Be the first to make this page better.
Challenge Awards Top 10 Event 2019
This event is popular
Viewed 200+ times this week
Experience the electric atmosphere of Hackney Moves Festival with both a Half-Marathon and 5k. Runners of all stripes will love this course that winds through the best that East London has to offer, supported by live bands and entertainment aplenty. This isn't just a race - it's a full-on festival.
Limelight Sports Club
has confirmed that this event will be going ahead as planned on Friday 14th May 2021 in accordance with the COVID-19 safety measures.
Learn more
Review summary
"A really fun and well organised race. Everything from the pre-race..."
"This was my second year running this event and I absolutely loved it. From bib..."
"My first ever DNF. Went off too hard and injured hamstring couldn't cope. As..."
How to enter the Hackney Moves
Do it for a good cause. Make those miles count and register for a charity place.
Standard Entries

Charity Entries

Standard Entries

Charity Entries
Hackney Moves routes
Good for PB Event
You will have a good chance to get a personal best at this event Learn more.
Move silly or serious in the UK's largest outdoor fitness festival run over 3 awesome days.
The Hackney Moves Festival runs from 14th - 16th May 2021 and features a Half Marathon and a 5k, and lots of other fitness fun from partners.
The whole event will have live entertainment and DJs to keep you inspired, not just at event centres but during the races. both at event HQ and on race routes.
The Route
Cruise down Mare Street through a carnival of sound, pass by the famous Town Hall, head through the historic Broadway Market, and then take in Hackney Wick, which is flush with vibrant street art.
While the 2021 Route will be similar to previous years, keep an eye out for the updated map which will be released early 2021.
Frequently Asked Questions
Can I listen to personal headphones during the races at the Hackney Moves Festival?
It is recommended that runners do not wear personal headphones both for safety reasons and to soak up the live entertainment on route!
At what time does the Hackney Half Marathon start?
The start time for Hackney Half Marathon 2021 has yet to be announced, but last year this race started at 9am. There are many other activities at this 3 day Festival of Fitness.
Is there an age requirement to participate in the Hackney Moves Festival?
Yes, participants must be 17 years or older.
Can I buy a ticket for the Hackney Moves Festival now?
Right now, participants interested in the event are asked to register their interest free of charge for the 2021 events.
Meet the organiser
Are you the organizer? Claim this page
We share a passion for the active world. We believe in the power of sport to change behaviours, build communities and make a difference. We're for the first-timers, the fast-timers, the old-timers and the good-timers. We know this space better than anyone, yet we still learn something new each day. We're here with a purpose, for a purpose. We don't just talk about it. We just do it. We work and play as one team. Limelight Sports. Creating an active world. Together.
Hackney Moves reviews (50)
Did the Half Marathon in 2019

Did the Half Marathon in 2019

My first ever DNF. Went off too hard and injured hamstring couldn't cope. As ever, though, this was a great event with fantastic atmosphere throughout. We walked to a pub along the river afterwards which was a great way to celebrate those of us who had finished it!

Did the Half Marathon in 2019

After being out of the loop for a number of years this course is a great one to get back into it. Vibes the whole way around, every turn was exciting and the support along the way amazing. It really felt like you were being encouraged to dig deep the whole way around. Loved every moment of it and will definitely be back for 2020.

Did the Half Marathon in 2019

Awesome event - the atmosphere is just unreal! The community all really come out in support and make it electric!

Did the Half Marathon in 2019

Well organised, great atmosphere and music. Amazing event and race village at the end a festival feel ! Will definitely be going back for a 3rd time !

Did the Half Marathon in 2018

i Have done 4 half marathons and by far this is my favourite. Beating Paris, Wimbledon Common and Birmingham. Organisation was amazing and the support ALL around the course helped me to get a PB!!!

Did the Half Marathon in 2019

This was my second year running this event and I absolutely loved it. From bib collection to crossing the finish line, the Virgin team go out of their way to put on a great experience. A combination of the weather being cooler this year, and the fact I had actually done some training leading up to to the race, helped me shave a couple of minutes off my time and set a new PB. Looking forward to coming back next year. And last but not least, as always, The Princess of Wales is the perfect post-race pub.

Did the Half Marathon in 2019

I highly enjoyed the Hackney Half this year! It was my second half and it was a completely different experience to the first. The atmosphere was amazing and really carried me round the course. i ended up knocking 20 mins off my first one last year. I highly recoment the Hackney half to anyone looking for a good fun run to do - it was brilliant fun and i really felt that i achieved something! Looking forwad to doing the 2020 one already!

Did the Half Marathon in 2019

A really fun and well organised race. Everything from the pre-race communication through to super easy bag drop (and collect) made it simple. Good food and drink options, clear meeting points etc. so logistically there was zero stress. The route was great and well supported throughout. It's pretty flat with a few ups and downs but a good entry level race which suited me perfectly. The location is a bit tricky to get to as it was a reasonable walk from the jubilee line.

Did the Half Marathon in 2019

Perhaps I'm a little spoiled with the scenery around South West London but the HH course was a little drab and empty in places early on. This was made up for by the troops of supporters down the line who were fab (shout out to the Run Dem Crew station and the GoodGym water station). There are a few unsuspecting hills particularly towards the end so be prepared for that. The water stations are really slow (i.e. lots of people queuing for them) but I think that's more a symptom of the huge number of people running which also makes it so awesome!
Something missing?
We're rebuilding our event pages and would love your input. Please suggest anything you would like to see on this page.
Events in the United Kingdom
Running Events in the United Kingdom
This event is popular
Viewed 200+ times this week